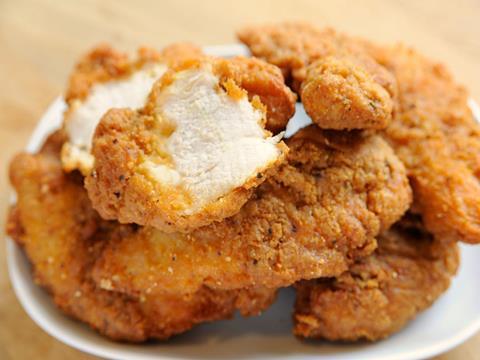 A series of recent frozen poultry recalls by the mults over a link to two ongoing outbreaks of salmonella has been tracked back to Poland, the FSA has confirmed.
A total of six recalls dating back to last October have now been linked to the outbreaks, including two that have been published over the past week.
On 18 February, poultry importer and supplier Vestey Foods recalled a 650g Chick Inn jumbo chicken nugget SKU carrying a best before date of January 2022, which was sold at Herron Foods, B&M and B&M Express.
Five Chicken Poppets and Take Home Boneless Bucket lines sold by frozen chicken brand SFC were also recalled via Sainsbury's and wholesale channels on the same date after the bug was found in some products.
Products sold by Aldi, Iceland and Lidl have also been pulled from sale over the past six months.
Following the latest recalls, the FSA said there had been 480 cases of salmonellosis caused by two strains of salmonella enteritidis linked to UK consumption of frozen, raw, breaded chicken products since January 2020.
Given the long shelf life of these products "and the fact that we continue to receive reports of disease caused by these salmonella strains", it this week reminded consumers about the importance of cooking and handling frozen products.
"Investigations have been and continue to be undertaken back to farm level in Poland," said an FSA spokeswoman.
"While some batches of these poultry products share some common food operators in the food chain, more than one supplier has been identified and multiple farm level producers have also been identified," she added.
"Investigations are ongoing in Poland to identify which farm level sources have led to the outbreaks, therefore we cannot share the identity of the businesses in the supply chain until investigations are completed and the source confirmed."