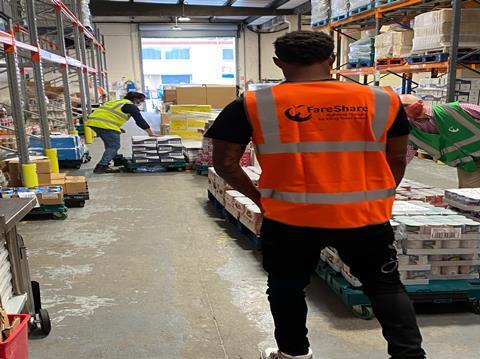 Food redistribution charity FareShare has been given a raft of awards in the Queen's Birthday Honours List for its work in tackling the hunger crisis during the pandemic.
From April 2020 to March 2021 FareShare redistributed more than 55,000 tonnes of food to vulnerable people – the equivalent of nearly 132 million meals, or four meals every second.
FareShare has worked with a string of the UK's supermarkets and a host of suppliers. Along with its ambassador, Manchester United and England football star Marcus Rashford, it was instrumental in helping prevent millions of children who rely on free school meals from going hungry during lockdown last year.
FareShare was also tasked with using two major multimillion-pound Defra grants to purchase food and get it to those in need.
CEO Lindsay Boswell received a CBE, head of food Jo Dyson an OBE and former London development manager Rachel Ledwith, now head of community engagement for The Felix Project, an MBE in the honours.
"Rachel, Jo and I are all humbled to be included in the Queen's Birthday Honours List," said Boswell. "We are all agreed on one thing, though. Whilst the awards are only presented to individuals, this MBE, OBE and CBE are in recognition of the efforts of every single one of FareShare UK's staff, our incredible national network of delivery partners, the army of volunteers and 11,000 charities who make it happen on the frontline. 
"We are proud to accept these awards on behalf of every single one of them."