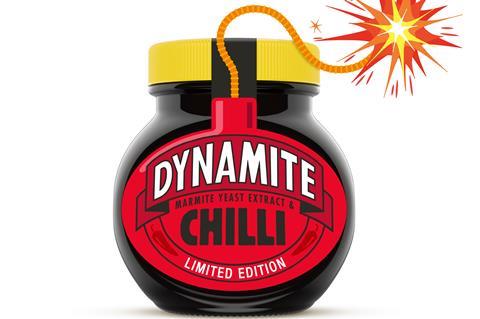 Unilever is expanding its Marmite line-up with limited-edition Marmite Dynamite.
The new variant combines Marmite with chilli and is said to provide an "explosion of flavour".
Unilever said Marmite fans had been experimenting with chilli and Marmite combinations on social media, and the brand wanted to "give the people what they want", as it did with the first Marmite Peanut Butter launch in 2019.
It will launch on 7 February for a limited six-month period and is exclusive to Sainsbury's (rsp: £3.99/250g).
It follows limited edition flavours including Marmite Champagne and Guinness.
Furthermore, Marmite is continuing its tie-up with M&S with the launch of cheese and Marmite hot cross buns (rsp: £1.65/four-pack).
It follows previous licensed products including Creamy Marmite Butter, Marmite Cream Cheese and Marmite Cheese Slices.