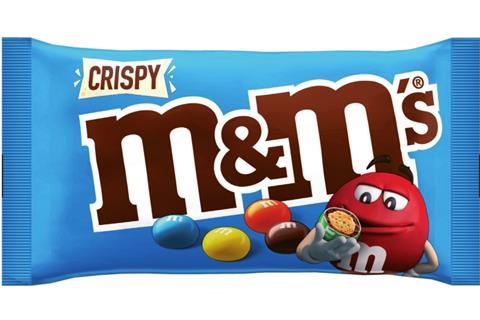 Mars Wrigley is recalling a batch of its M&M's Crispy products due to the presence of a genetically modified organism (GMO).
According to a press release shared by Mars, the GMO was present in an ingredient that had been produced by one of its suppliers.
Several batch codes across its M&M's Crispy single packs, treat bags, pouches and "more to share" pouches have been recalled.
The fmcg giant said it did not use GMOs in any of its products in Europe.
"Further, there is no GMO authorised for this ingredient under UK law and so the products must be recalled," it added.
"These products are not permitted on the market," a spokeswoman for the Food Standards Agency (FSA) told The Grocer.
"We have been liaising with the business and have asked them to keep us informed of their investigations," she added.
Mars said it had undertaken "a thorough tracing exercise" to determine the locations of the affected products.
"We can also confirm we have halted all production using the affected ingredient and have placed a hold on all products made with the impacted batch," it added.
"We will work with the supplier who provided the ingredient to ensure thorough checks are in place to ensure the issue does not recur."
No other brands or products had been affected, it said.
It comes as Highland Spring is currently recalling its 750ml glass sparkling water bottles following reports of the product exploding.
The manufacturing error – which has forced the brand to recall up to 130,000 bottles – has left one consumer with a "minor cut", a spokesman told The Grocer.