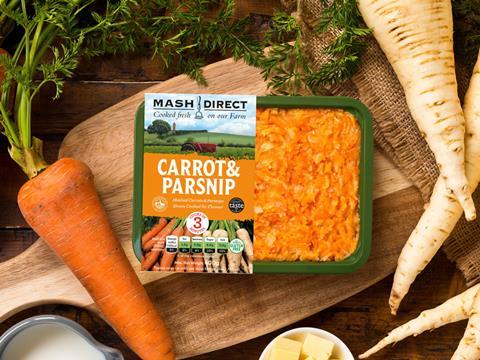 Mash Direct has continued to grow rapidly outside its domestic Northern Ireland market as consumers looking for a blend of health and convenience throughout the coronavirus pandemic turned to its range of prepared veg.
Chief operating officer Jack Hamilton said the brand had outperformed the declining chilled ready meal category during lockdown.
Newly filed accounts for the year ended 29 February 2020, just before the Covid outbreak hit, revealed a 20% increase in turnover to £22.1m thanks to a raft of NPD and increased marketing raising brand awareness on the UK mainland, which now accounted for 59.4% of total sales.
EBITDA jumped 54% in the year to £3m while pre-tax profits stood at £1.7m, compared to £22k in 2018/19 when it was hit by £610k of one-off costs for a postponed retail listing in the US.
The company's range of prepared mash veg has grown to include the likes of curry chips, shredded duck bites and crispy vegetable bakes. Mash launched a range of vegan-friendly mashed potato and mashed carrot & swede side dishes during the 2019/20 financial year and has since taken its first steps into the ready-to-eat salad pot segment.
It positioned the supplier well as the pandemic hit in March last year, with increased demand in supermarkets and convenience retail more than offsetting a reduction in foodservice trade.
Jack Hamilton said: "We have seen an increase in demand for the Mash Direct range as consumers have looked for healthy vegetables with provenance during the pandemic.
"While the chilled ready meal category as a whole has been in decline due to the poor performance of own label, demand for Mash Direct branded products has increased."
Mash Direct also benefited from disruption to UK retail supply chains caused by Brexit this year, securing its first-ever M&S listings in Ireland.
Founded by Martin and Tracy Hamilton in 2003, the business continues to be run by the couple and their sons, Jack and sales director Lance.