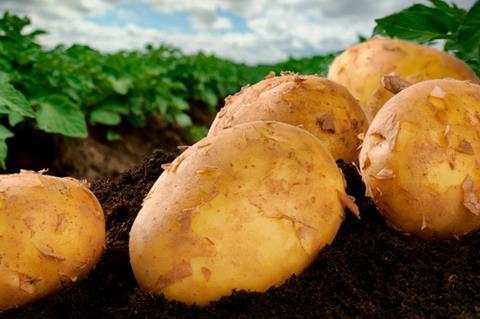 McCain has unveiled a raft of sustainability targets across its operations as part of the launch of its latest global sustainability report.
The frozen giant has committed to sourcing all of its potatoes from farms using fully regenerative methods by 2030 – a pledge that would encompass some 370,000 acres of land.
These regenerative measures are set to include things like moving the soil less during cultivation to keep CO2 locked into the ground, reducing usage of artificial fertilisers by replacing them with manure, and covering soils to avoid soil erosion.
Such actions would reduce greenhouse gas emissions, promote biodiversity and ultimately allow crops to develop more resilience to future extreme weather events, the company said. In recent years, British growers have been hit hard by drought conditions and severe wet weather.
Other commitments made by McCain included a 25% reduction of CO2 emissions from farming, storage and freight and a move to 100% renewably sourced electricity by the end of the decade.
It has also said it will remove all palm oil from its branded products and make 100% of its packaging either recyclable, reusable or compostable by 2025.
"The pandemic has put a spotlight squarely on the precarious nature of our global food system. But the largest challenges we face are related to climate change," said McCain CEO Max Koeune.
"It's estimated that a quarter of man-made carbon emissions come from the production of food, and if we have to grow more food to feed more people, that will only intensify. If we don't transform the way we grow food, the whole system is at risk of suffering irreparable damage. As a global leader in food production, McCain has a responsibility to reimagine the way we grow a potato in a way that is beneficial for both the planet, and the communities where we operate."
These commitments have come almost a year after it announced its £25m Farmer's Pledge, a fund which the business hoped would guarantee the long-term viability of its farm suppliers.
McCain's latest pledges also came as it launched its second global sustainability report.
This report said the Canadian-headquartered company had achieved a 6% reduction in absolute CO2 emissions across its global operations compared to 2019 and had also managed to increase its use of renewably sourced electricity by 5% during this period.