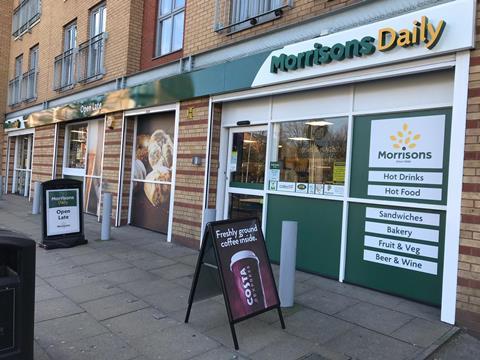 McColl's is raising £35m to rapidly accelerate the conversion of stores to the Morrisons Daily format.
The convenience retailer said today it is aiming to have converted 350 stores to Morrisons Daily by November 2022. This is fifty more stores than its previous target of 300 by the end of December 2023.
McColl's announced plans for the capital raise alongside its interim results.
The company said like-for-like sales were up 1% for the 26 weeks to 30 May, a two-year like-for-like growth of 7.4%.
Total revenue was down 5.3% to £572.7m, which McColl's said was largely down to its ongoing store closure programme, which will see its estate reduced to 1,150 stores by the end of the current financial year.
It reported a 13.2% fall in adjusted EBITDA to £24.3m, which McColl's said was linked to a shift in consumer trends towards lower-margin categories such as grocery compared to traditionally higher-margin impulse lines. It reported an overall adjusted loss before tax of £2.1m.
McColl's converted 25 stores to the Morrisons Daily fascia during the period. This took it to 56 in total. It is on-track to have 100 by the end of the financial year with capacity for six store openings per week.
The Morrisons Daily stores have the highest revenues in the McColl's estate, due to a high grocery mix and wider product choice for customers, it said.
The retailer however issued a warning over the impact of the current industry-wide supply problems.
It said it had put in place a number of temporary mitigating actions and it continues to work closely with its supply chain partner Morrisons to resolve these challenges. However, if such challenges don't materially improve in the second half of the year, full-year performance will fall short of management expectations.
"We have continued to play an important role serving local neighbourhoods through the challenges of Covid-19, sustaining like-for-like sales growth despite the strong prior year comparator in Q2 following the first national lockdown," said McColl's CEO Jonathan Miller.
"Many of the changes in consumer behaviour we have seen since the onset of the pandemic have continued in 2021, with customers spending less on impulse goods but buying more take-home and multipack products, impacting overall margins. Alongside the impact the industry-wide shortage of delivery drivers has had on our product availability, we are confident these temporary trading effects will reverse as restrictions ease and distribution returns to normal.
"During the period we made good progress against our strategic initiatives. We are delighted with the performance of our Morrisons Daily conversions and we now have a blueprint for this model that offers a strong return on investment.
"Looking ahead, whilst the wider economic outlook remains uncertain, we have clear demand for our grocery-led convenience offer, and our focus in the second half will firmly be on the continued rollout of the Morrisons Daily stores, to help drive sustainable, profitable growth over the medium term."