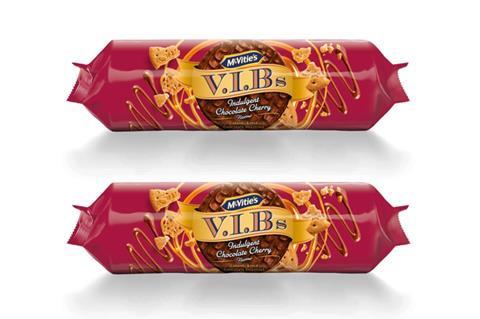 Pladis is adding a chocolate cherry variant to its McVitie's V.I.Bs range to lure in younger shoppers.
The biscuits are coated in a layer of chocolate cherry flavoured caramel and topped with milk chocolate.
They will join the existing McVitie's V.I.Bs lineup, which includes Classic Caramel Bliss, Heavenly Chocolate Hazelnut and Luscious Blood Orange variants.
The Indulgent Chocolate Cherry NPD (rsp: £1.79/250g) wiould help drive incremental sales and frequency of purchase, particularly among younger shoppers, said Pladis.
It will roll into Tesco on 28 June. Further launches into other major retailers and wholesale channels will follow from July, said Pladis.
McVitie's marketing director Emma Stowers said its V.I.Bs range had already played a "key role" in welcoming new and younger shoppers to the brand.
This was because consumers aged 16 to 35 were "looking for more flavour innovation" in the sweet baked goods category, she claimed.
The NPD had achieved high likeability scores and purchase intent, "so we're confident that McVitie's Indulgent Chocolate Cherry V.I.Bs will continue to appeal to younger shoppers seeking a special sweet treat", Stowers added.
It comes as part of a major push by Pladis to lure younger shoppers to its brands.
In December, it added a host of "quintessentially British, dessert-inspired" flavours to its McVitie's Chocolate Digestives and Hobnobs brands, targeting consumers aged from 25 to 40.
It has also recently added a swathe of NPD to its Jacob's Mini Cheddars range to appeal to younger shoppers.
In April, it rolled out a trio of Mini Cheddars flavours inspired by different regions of Britain.
Last year saw it roll out a trio of Mexican flavours and a duo of Mini Cheddars Sticks.