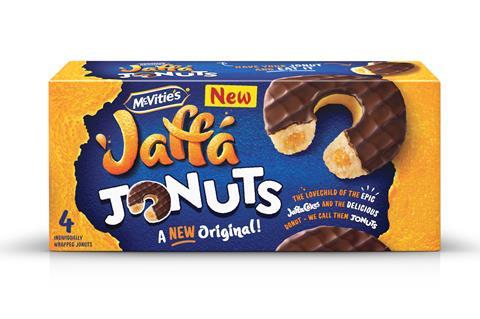 Pladis is hoping to shake up the biscuits and cakes category with the launch of a new Jaffa Cake-doughnut hybrid.
Called Jaffa Jonuts, its latest NPD combines the long-standing brand's sponge, orange and dark chocolate with a new, ring doughnut shape.
The Jaffa Jonuts will roll out in individually wrapped snack packs (rsp: 60p/43g) and in multipacks of four (rsp: £1.99/4x43g).
The new launch would "further propel the popularity of the brand", said Pladis, calling it the "biggest format innovation" for McVitie's in the past two years.
McVitie's brand director Emma Stowers said she hoped the NPD was "the perfect example of how we can push the boundaries when it comes to what 'should' take pride of place on the biscuit aisle".
The new launch would also lure younger consumers to the brand, added Pladis.
Consumer research revealed the product had "particularly high appeal amongst under-35s", said Stowers.
McVitie's Jaffa Jonuts will hit Tesco biscuit aisles on 16 May. They will roll out across other major retailers and convenience stores from the end of June.
The launch will be backed by a £2.1m marketing spend, tying in with its ongoing 'The Year of Jaffa Cakes' campaign.