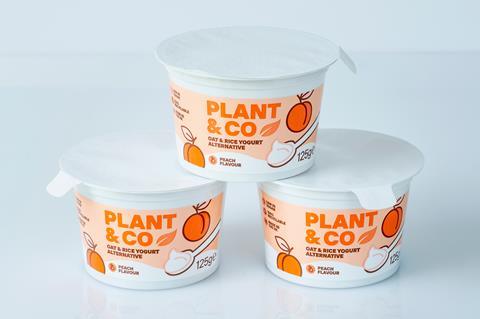 Dairy ingredients giant Meadow Foods has taken its first move into branded plant-based foods with the launch of a yoghurt alternatives range.
Made using a blend of British-sourced oats and rice, the supplier's Plant & Co range comes in four variants – Strawberry, Raspberry, Peach and Natural – and is said to be low in sugar and lactose-free. It will be targeted at the foodservice and hospitality markets.
These will be available in 125g and 450g pots as well as in 1kg, 2kg, 5kg and 10kg tub formats, which Meadow Foods said would all be fully recyclable.
The NPD, which Meadow Foods said had been in development for more than 12 months, has come amid a boom for dairy alternatives, with 1.5 million new shoppers entering the category in 2020.
"We're looking forward to extending our portfolio to accommodate the dairy alternatives and plant-based market," said Meadow Foods CEO Mark Chantler.
"Dairy continues to be at the core of our business and we are passionate about reflecting the quality of taste from our dairy division in our plant-based products too."
The new range will be manufactured at the business' £5m segregated dairy alternatives plant in Chester, which came online at the end of 2020.
At the beginning of the site's construction in June 2020, Chantler said the facility would also produce other plant-based products in categories such as milk alternatives, creams and dairy-free soft cheese alternatives.
Meadow Foods already manufactures The Collective's plant-based range of yoghurts, which was launched at the beginning of 2021.
The launch comes three months after the supplier's founder Simon Chantler stepped down as chairman of Meadow Foods. Chantler, who now sits on the company's board as a non-executive director and remains its largest individual shareholder, was replaced by former group CEO at United Coffee and Findus Group, Per Harkjaer.