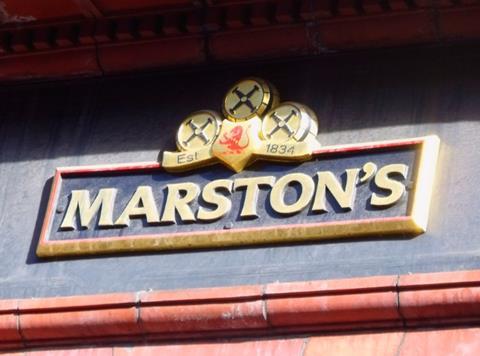 The pub chain Marston's has received a takeover approach from a US private equity group in a move that could fuel a spate of deals in the embattled hospitality sector (The Guardian). Marston's, the pubs operator which recently called on the government for more Covid relief, has received a takeover approach from an American private equity group (The Times £). Shares in brewer and pub group Marston's rallied after the company said it has received an informal takeover offer from a US private equity firm (The Daily Mail). British pub giant Marston's says it has received an "unsolicited" takeover offer from US private equity firm Platinum Equity Advisors (The BBC).
Getir, a Turkish start-up backed by the venture capitalist Michael Moritz, has launched a rapid delivery service for grocery and corner shop items in London, in a challenge to the competitive UK food courier market. (The Financial Times £)
Britain's biggest association for property developers has warned of the damaging impact of government plans to allow high streets to be converted into housing without planning permission. (The Times £)
Rates have been reviewed to death by the government: retailers are still in suspense as to the outcome of its current "fundamental review". But now it has run out of road. Physical retail is dying and without action now more store-based retailers will disappear, making any recovery harder to achieve. (The Guardian)
As national chains collapse and the survivors lose their physical pulling power, local authorities and investors are plotting to draw people back into retail-dominated town centres by bulldozing shops to make way for homes, leisure centres, co-working spaces and medical centres. (The Times £)
The collapse of Sir Philip Green's empire risks lumbering taxpayers with a £50m bill for redundancy payments (The Telegraph). The sale of Sir Philip Green's Arcadia empire could leave the taxpayer and the pensions lifeboat with a bill for hundreds of millions of pounds, experts have warned (The Times £).
Sir Philip Green's family is likely to receive £50m from the sale of Topshop while more than 1,000 suppliers to the high street fashion chain are set to get less than 1% of the money owed to them. (The Guardian)
Online fashion giants Asos and Boohoo paid just £48.1 million tax on £4.5 billion sales last year — a fraction of the £160 million in business rates paid by Sir Philip Green's Arcadia Group and Debenhams, whose brands they are set to carve up in deals that will close hundreds of shops and put tens of thousands out of work. (The Times £)
Cardboard shortage forces retailers to box clever, writes The BBC. The Confederation of Paper Industries says while there is always a peak in demand in the run up to Christmas, stockpiling around the Brexit deadline exacerbated the problem. Covid-19 also led to complications with shipping and staffing challenges, which affected the industry on a global basis. (The BBC)
Unilever plots route through pandemic obstacle course, writes The Telegraph. Ethical reforms, US growth and emerging markets all pose potential headaches. (The Telegraph)
Sky-high prices will come and go but, given limited supply, whisky is maturing nicely as an alternative investment. The cost of top whisky has rocketed in recent years. Using auction values, an index of the best ones has increased 262% in the past five years. (The Financial Times £)