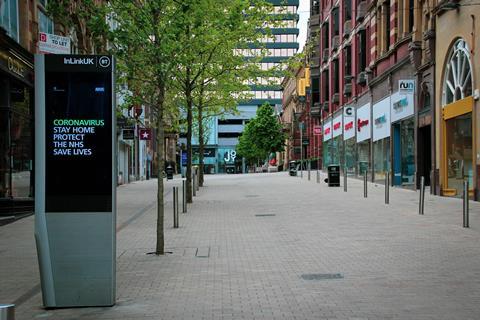 The chancellor, Rishi Sunak, is to offer 700,000 shops, pubs, restaurants, hotels and other businesses, grants of up to £18,000 each as part of a £5bn rescue scheme to prevent mass bankruptcies (The Guardian). Chancellor Rishi Sunak is set to announce a £5bn grant scheme to help businesses hit hardest by the pandemic – such as shops, pubs, clubs, gyms and hair salons – get access to new direct cash grants of up to £18,000 (Sky News). A £5bn scheme for High Street shops and hospitality firms in England has been unveiled, with Rishi Sunak promising more support to come for the economy (The BBC). Pubs and high street shops will be thrown a lifeline in Rishi Sunak's Budget as he promised to 'get the tills ringing once again' (The Daily Mail).
Forty-five Conservative MPs from constituencies in the North of England have urged the chancellor to cut business rates in England to help "save the High Streets". (The BBC)
Land Securities are exploring ways that some of its shopping centres can turn excess space into mini fulfilment centres for tenants, which in turn would make the retailers' delivery networks greener and more efficient. The company is turning five of its suburban shopping centres into thousands of houses, which also will have shops and other amenities to reflect a community's needs. (The Times £)
John Lewis plans hundreds of mini-stores in Waitrose – Dame Sharon White wants most of Waitrose's 331 supermarkets to have one in the next 12 to 18 months. The initiative is part of a radical overhaul of John Lewis's presence on the high street, where it has anchored shopping malls and town centres for generations. (The Times £)
Cuddly John Lewis could learn from sharp-toothed Amazon, writes Oliver Shah in The Times. "Could it find a way to give [customers] a financial stake in the business, either through a quasi-equity instrument or some new kind of membership? Even Jeff Bezos, in his own reptilian way, has managed to secure a loyalty relationship with Amazon shoppers (and recurring revenues) via Prime." (The Times £)
Danone is preparing to sell its stake in Chinese dairy group Mengniu, worth roughly €1.8bn, the first of a series of asset disposals it has promised as activist investors circle the French consumer goods maker. (The Financial Times £)
Sainsbury's and Argos workers are to receive a third pandemic bonus and a pay increase of more than 2% to match the real living wage outside London, as supermarket sales continue to boom during the high street lockdown (The Guardian). Sainsbury's is hiking wages for staff at its supermarkets and Argos stores and will pay another bonus to its frontline workers (The Daily Mail). Sainsbury's is to reward frontline staff with a 3% bonus for their efforts to serve customers during the coronavirus crisis (Sky News).
Ocado is launching smaller versions of its automated warehouses more widely across the UK as it steps up its expansion outside south-east England and addresses the shortage of capacity that constrained the business during the Covid-19 pandemic. (The Financial Times £)
Lender HSBC has taken additional security over some Iceland Foods' property and various trademarks after the restructuring of the chain's debts. The frozen food chain has net debt of more than £700m and issued another tranche of bonds worth £250m earlier this month. (The Telegraph)
A surge in people seeking creature comforts during the pandemic has prompted Pets at Home to upgrade its profit guidance for a fourth time in only a year (The Times £). Pets At Home has upped its profit forecast for the fourth time since September, as strong demand from shoppers looking after their pets continues during lockdown (The Daily Mail).
Asda's previous owner Walmart is expected to pick up the bill for a long-running legal battle over equal pay if judges rule in the workers' favour despite the grocer changing hands. (The Telegraph)
Deliveroo swerves to avoid Uber's shadow. The ride-hailing app's landmark defeat on drivers' rights comes at an awkward time for the takeaway giant heating up a £5bn float. Deliveroo, which offers free insurance to riders, believes there is no read-across from the Uber ruling, and that — unlike its rival — it exerts no control over riders. (The Times £)
Gerry Ford is plotting a way out of the crisis engulfing Caffè Nero, the coffee-shop chain he founded 24 years ago. He has spent weeks hunkered down with lawyers from Linklaters, working on a plan to fend off a legal threat funded by the billionaire owners of Asda. (The Times £)
The Times looks at 'the discount tycoons rifling through the wreckage'. The secretive brothers from Liverpool behind Home Bargains are among entrepreneurs making money in the retail crisis. (The Times £)
Upper Crust owner SSP has overhauled the pay scheme for its top executives in a move which could spark a backlash among investors. (The Telegraph)
Europe's largest listed supermarket chain Ahold Delhaize is expecting to make more acquisitions in the US as the shift to ecommerce drives smaller businesses out of the market. (The Financial Times £)
The Times advises investors to look at Greencore shares again. "The Dublin-based company tends to be tightly run and could be well placed to benefit from a summer recovery. Two years ago, this column warned investors to leave it on the shelf. Today, it is time to bite back in." (The Times £)
Oatly will need to reach mainstream shoppers if it is to justify its mooted IPO valuation. Diary still accounted for 88% of milk consumed globally in 2019. Almond is the most popular alternative milk, but oat-derived substitutes are growing rapidly (The Times £). After the upheaval of the pandemic some business leaders think 2021 could be a watershed moment for plant-based foods. Oatly, with the might of the US private equity firm Blackstone behind it, perhaps thinks so too. (The Guardian)
Half of Britain's cash machines could close within two years unless banks are forced to support them, experts have warned. (The Times £)
The rush to stock up on home cleaning and hygiene products came as no surprise last year. PZ Cussons saw its sales climb 15 per cent in the six months to November 31, although it warned that demand was "volatile" and that surging interest in the hand sanitiser market had brought increased competition. (The Financial Times £)
Hundreds of thousands of tonnes of food is thrown away in the UK every year. With coronavirus lockdowns closing restaurants, cafes and pubs, there is even more food potentially going to waste. But charities and apps are stepping in. (The BBC)