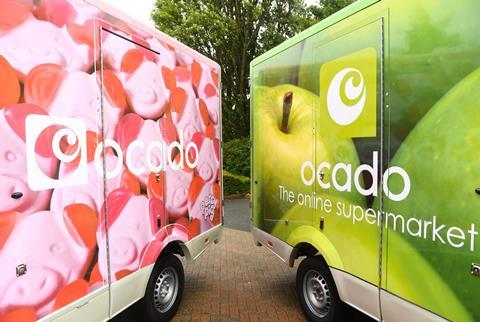 Ocado has reported a sharp rise in sales and profits at its online grocery business thanks to booming demand during the pandemic but said that customer numbers had fallen during the year (The Financial Times £). A pandemic-driven surge in demand for online grocery orders last year has reduced losses at Ocado, but the company's plans to further step up investment cast a shadow yesterday over its prospects for future earnings (The Times £). Ocado posted sales of more than £2billion for the first time despite losing customers in the pandemic (The Daily Mail). Ocado has reported a leap in annual sales and core profitability as wider retail figures highlight the sharpest drop in business since May amid continuing coronavirus lockdowns (Sky News).
The boss of Ocado said that slapping online retailers with a sales tax would be inappropriate after demand for home delivery pushed its revenues up for the year. (The Telegraph)
Four Ocado bosses are being handed shares worth £116m after its stock market value soared on the back of the pandemic boom in grocery home shopping. (The Guardian)
The Times' Alistair Osborne writes: "Yes, the joint venture with Marks & Spencer more than trebled Ebitda… But here's the most striking figure: the 15% drop in active customers to 680,000, as the likes of Tesco and Sainsbury's grabbed online market share. Rivals proved they could deliver to customers simply by picking stock at their stores, with no need whatsoever for Steiner's arsonist robots." (The Times £)
Sales are soaring, but Ocado is still yet to deliver, writes Ben Marlow in The Telegraph. "The food delivery retailer is a lockdown winner, but for all its share price success it's failing to hit a key business metric." (The Telegraph)
The FT's Lex column writes: "Ocado's vertigo-inducing share price has more than doubled over the past year. That is not bad when you consider Ocado was unable to meet demand for its UK delivery service or announce any new corporate customers for its automated warehouse businesses. Nor has Ocado turned a profit yet." (The Financial Times £)
Larry Elliot in The Guardian writes: "The Treasury cannot simply write off Britain's high streets, putting their demise down to creative destruction in action. Pressure to help bricks-and-mortar retailers is sure to intensify. And, whether through a digital sales tax, higher business rates, or some other method, companies such as Ocado will rightly end up paying more." (The Guardian)
Tesco has come under fire from a group of shareholders who claim that the UK's largest supermarket chain is exacerbating the country's obesity crisis (The Financial Times £). Tesco is being forced to table a shareholder resolution calling for it to disclose how much unhealthy food it sells and to provide investors with annual updates (The Times £). A group of investors is trying to pressure Tesco, the UK's largest supermarket, into selling healthier food and drink amid a growing obesity problem (The BBC).
Sales of beer in pubs fell by 56%, or £7.8bn, last year as lockdowns and trading restrictions took their toll, according to industry figures (Sky News). Beer and pub sector leaders are pressing the government to give them a reopening date (The BBC).
Britain's biggest wine maker has called time on its foray into beer after agreeing the sale of a brewery in Kent to Luke Johnson, the serial investor, via a pre-pack administration. (The Times £)
Nestlé and Silver Lake are leading a €3.5bn investment into IVC Evidensia, Europe's biggest vets group, in a move that will result in the private equity firm EQT abandoning plans to list the business on the London market. (The Financial Times £)
Cornwall's fishing industry is considering changing the names of some of its most common catches to increase their appeal to consumers in post-Brexit Britain. (Sky News)
The pound has motored up against the dollar as the UK's rapid vaccine rollout raised hopes for an economic recovery. (The Daily Mail)