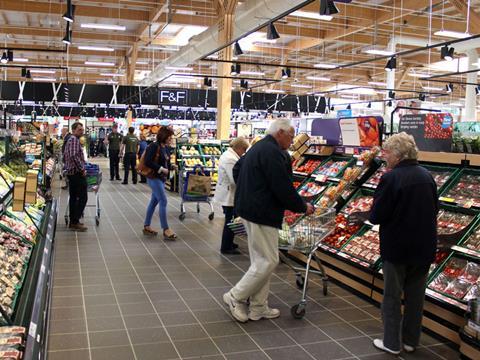 Supermarkets and their shoppers could be hit with a £3.1bn annual bill on food and drink if there is no post-Brexit trade deal with the EU. "No amount of preparation for retailers can entirely prevent disruption to food and other essential goods," warned the BRC. (Sky News)
Foreign Secretary Dominic Raab has insisted that a no-deal Brexit will not cause food prices to surge after Tesco's chairman warned the political deadlock risks triggering a 5% rise and other retailers warned of a £3bn tariffs hit. (The Telegraph)
The government is facing growing pressure to take action at the UK's gridlocked container ports, as the looming Brexit deadline is also resulting in thousands of extra truckloads of goods heading to the Channel ports in France, causing delays and traffic queues. (The Guardian)
Scores of major businesses are seeking emergency air freight capacity ahead of the Brexit deadline on 1 January, the government's favoured air charter company has said. (Sky News)
A fruit crisp maker that supplies Waitrose and Marks & Spencer is stockpiling eight tonnes of lemons – about 40,000 in total – ahead of potential disruption if no Brexit trade deal is agreed. Bosses of Nim's Fruit Crisps says the move became appealing after taking an EU-funded course on trade. (The Telegraph)
Wine merchant Simon Taylor had been planning to stockpile wine before the end of the month just in case prices rise when the UK stops trading under EU rules. The wine merchant says he now can't do so, as so many firms had the same idea. (The BBC)
The pound took another battering over worries that Britain and the EU will fail to reach a trade deal before the new deadline of Sunday. (The Times £)
Ocado is stockpiling long-life products such as Italian beer in readiness for a no-deal Brexit but said it did not have enough warehouse space to build big reserves and could do little to mitigate the feared disruption to fresh food imports (The Guardian). The boss of Ocado warned that there could be disruption to fresh food in the new year as sales continued to surge partly thanks to the second lockdown (The Telegraph).
Ocado raised its full-year profit forecast for the third time this year, as a second wave of coronavirus restrictions has kept shoppers buying groceries online ahead of the festive season (The Financial Times £). An increase in midweek grocery deliveries to people working from home has prompted Ocado to report a surge in sales and boost its guidance for the third time this year (The Times £). Ocado has upped its profit forecast for the second time in a few weeks after tougher lockdown restrictions spurred people to buy a record amount of groceries online (The Daily Mail).
Suppliers of scotch eggs have reported a surge in demand after the stout British bar snack became the unlikely focus of a debate around the latest Covid restrictions on pubs. Food wholesaler Brakes reported a ten-fold increase in scotch egg demand as the English lockdown ended last week. (The Financial Times £)
Tesco and Morrisons will open their shops on Boxing Day despite calls to give staff the day off. Unions say supermarket staff should not have to go in on 26 December as a thank you for their work during the pandemic. (The BBC)
Pub operator and brewer Marston's has reported it made a loss of almost £400m in the year to October due to the pandemic. (The Daily Mail)
Britain's economic recovery slowed to a crawl in October as rising coronavirus cases led to tighter restrictions in parts of the country, official figures show. (The Times £)
The petrol forecourt retailer behind Welcome Break looks set to be taken private by its founders in a €694 million deal backed by the investment giant Blackstone (The Times £). Applegreen shares rocketed as bosses and founder Robert Etchingham and Joseph Barrett plotted taking the Irish group private for around 523p per share (The Daily Mail).
Millions of gig economy workers have had their hopes of better pay boosted after food delivery giant Just Eat offered delivery staff hourly wages. (The Daily Mail)
A dispute over whether global cocoa buyers were prepared to pay illustrates how hard it will be for Ivory Coast and Ghana to control and lift prices in an industry dominated by millions of smallholders. (The Financial Times £)