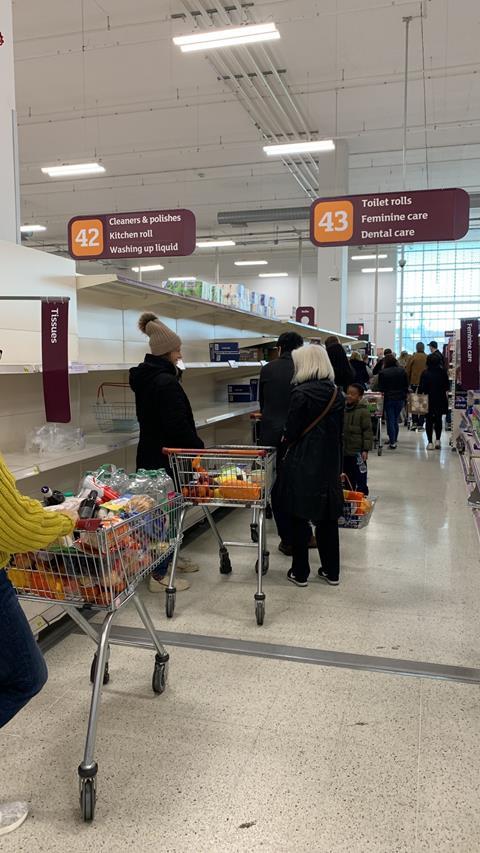 Supermarkets are poised to implement rationing within 24 hours of a run on essential goods being detected, amid growing fears panic buying will erupt if the UK confirms a no-deal Brexit, according to The Telegraph.
Boris Johnson "needs to get his act together" and seal a trade deal with the EU to prevent major disruption to sales of farmed salmon, the Scottish Salmon Producers Organisation, the industry group for the UK's biggest food export, said on Monday (The Financial Times £).
European fishermen have warned that they are prepared to blockade Calais and other ports in the event that a no-deal Brexit excludes them from operating in UK waters (The Times £).
Ingredients that UK consumers today take for granted may become dearer, and a little harder to come by, if there is no deal (Sky News).
The pound edged higher in value against the dollar and the euro on Monday as investors digested claims that a deal in the UK's trade negotiations with the EU had taken a step closer (The Guardian).
Unilever is to offer investors a regular vote on its plans to tackle climate change, becoming the world's largest company to do so as corporates face growing pressure to cut greenhouse gas emissions (The Financial Times £).
The £115bn business said yesterday that it will hold a non-binding advisory vote at the annual meeting in May on measures that include plans to cut emissions from its operations to net zero by 2030 and to halve the environmental impact of its products (The Times £).
The FTSE100 maker of Marmite, Persil and Hellmann's mayonnaise said it will offer votes on its green policy every three years and the company will report on its progress against its targets annually (The Mail).
The billionaire brothers who recently agreed to acquire the Asda supermarket chain have beefed up their petrol forecourt business with a €485m purchase of 285 sites in Germany (The Times £).
International retailers, food groups and investors including Tesco, McDonald's, Unilever and Lidl have called on leading soyabean traders to stop trading the commodity linked to deforestation in Brazil's Cerrado region, an important biodiversity hotspot which, along with the Amazon rainforest, has been at the centre of the country's agribusiness boom (The Financial Times £).
More than half of furloughed jobs in the UK are at the highest risk of automation as the Covid crisis accelerates workplace technology change, driving up redundancies and inequality across the country, according to a report (The Guardian). The two-year commission on workers and technology, chaired by the Labour MP Yvette Cooper, found that workers in sectors hit hardest by the pandemic – such as hospitality, leisure and retail – face a "double whammy" as their jobs are at the most risk of being replaced by machines.