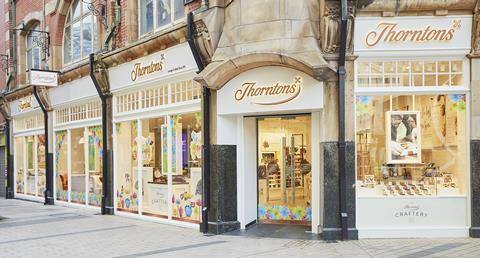 Thorntons, the high street chocolate retailer, is permanently closing its shops in Britain, putting 603 jobs at risk (The Times £).
The Thorntons brand will remain on offer in supermarkets and other retailers, while its factory in Alfreton, Derbyshire, will make more chocolate for international markets (The Guardian).
It blamed successive store closures during lockdowns as well as the shift to online shopping for lost sales and the decision to abandon physical retail. Not being able to trade during Easter and Christmas, two crucial sales periods, have added to the company's woes (The Telegraph).
Thorntons – which is owned by confectionery giant Ferrero – had pumped £45million into transforming its operations – including new store formats and cafes (The Mail).
Iceland is moving upmarket with a new convenience store chain called Swift offering more fresh food as well as frozen products (The Telegraph).
Consumers are gearing up for the end of Covid-19 restrictions by splashing out on barbecues and garden furniture, spending data from Asda shows (The Times £).
Deliveroo has announced plans to raise about £1bn of new funding to boost growth as part of its proposed initial public offering (The Times £).
The float will bag founder Will Shu a windfall of as much as £430m for his 6.2% stake (The Mail).
The executive chairman of Danone, the French food giant, has been sacked in what Parisian commentators have described as a victory for "brutal" Anglo-Saxon investors (The Times £).
Emmanuel Faber's departure comes after calls for his removal and a major governance shake-up by leading shareholders, who argue Danone has under-performed in recent years (The Mail).
The Lex column in The Financial Times (£) looks at the changes at Danone and says the French yoghurt maker's new boss will have much to unpick.
The Telegraph says the shake-up exposed "fickle protectionism" of the French establishment. "By staying silent on the coup staged at Danone by activist investors, the French Government is proving its hypocrisy."
Hand sanitiser, loungewear and home exercise kit have been added to the UK's inflation basket and staff canteen sandwiches removed, in an update that reflects people's changed habits during lockdown (The Financial Times £).
UK beer sales have fallen by 2.1bn pints in the year since the start of the coronavirus pandemic (The Guardian). The figure translates to £8.2bn in lost trade by value compared with the same period a year before, according to the estimates from the British Beer and Pub Association.