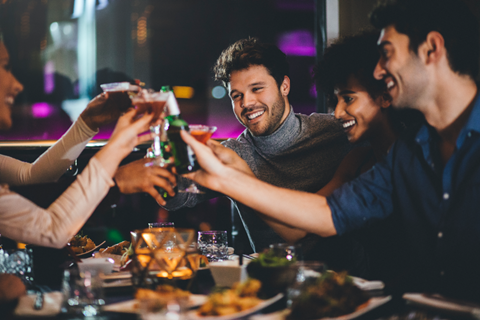 Close to a million people went back to work on Monday in more than 50,000 bars, restaurants and hotels across the UK even as business owners questioned longer term reopening plans given the rapid spread of a new Covid-19 variant (The Financial Times £).
Restaurants and pubs enjoyed a surge in bookings on Monday after the return of indoor dining in England, Scotland and Wales (The Guardian).
Britain's pubs and restaurants are already suffering the reopening blues, says The Financial Times (£). "Cautious diners return after lockdown but some question whether it will be enough to save the sector," the paper writes.
Pub and restaurant shares fall flat after return of indoor hospitality (The Times £).
Starbucks and Target are the latest large US companies to re-examine their mask policies after the country's health agency said last week that fully vaccinated individuals no longer have to wear them indoors (The Financial Times £).
Danone has chosen Antoine de Saint-Affrique, who has run Swiss cocoa and chocolate manufacturer Barry Callebaut since 2015, to be its new chief executive (The Financial Times £).
Costa Coffee is installing rapid electric car chargers at 200 of its drive-through sites around the UK (The Telegraph).
The UK is facing a shortage of Cadbury 99 Flakes after a surge in demand for soft-serve ice creams topped with the crumbly, chocolate treat (BBC News).
Ice-cream vans are at risk of running out of Cadbury's famous 99 Flakes as supply problems lead to a shortage of the chocolate sticks (The Telegraph).
Daylesford Organic has reported a surge in sales as locked down consumers including the prime minister tucked into its upmarket produce (The Times £).
Chocolatier Godiva has pulled back from an aggressive expansion of its own shops to refocus on selling chocolates in grocery stores and other retailers, where sales are on a sugar-high from homebound consumers (The Financial Times £).
Nyetimber, which has 11 vineyards across West Sussex, Hampshire and Kent, has reported a surge in online sales as English winemakers continue to challenge their more famous French counterparts (The Mail).
Australia's Fair Work Commission has ruled that a Deliveroo rider was an employee not a contractor in a decision that will have ramifications for the wider gig economy (The Guardian).