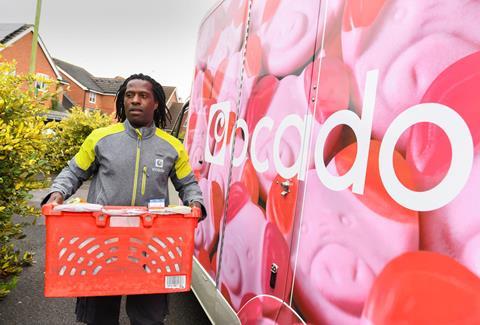 The boss of Ocado has shrugged off the threat of new faster delivery rivals and claimed that Amazon has a "negligible impact" on the British grocery market (The Times £). The boss of Ocado has dismissed the threat of losing ground to Amazon, calling it a "very small competitor" (The Telegraph).
UK lockdowns pushed Ocado grocery sales up 39% in the most recent quarter, but the company said it expected more normal trading patterns to resume and offered no profit guidance for the year (The Financial Times £). Ocado, the online grocer, has reported a 40% surge in sales in the last three months and said it would benefit from the "dramatic and permanent shift" towards online shopping over the past year (The Guardian). On average, Ocado customers spent £147-a-time on their shop, with Marks & Spencer products 'consistently' accounting for over a quarter of the basket (The Daily Mail).
Ocado has revealed it is in talks with a "large number" of retailers internationally about new technology partnerships while reporting a renewed surge in online grocery sales. (Sky News)
Ocado will open 12 rapid delivery sites allowing customers to receive their groceries in just 30 minutes. (The Daily Mail)
Roger Burnley has said he will step down as chief executive of Asda, just months after the private equity firm TDR Capital and the billionaire brothers Mohsin and Zuber Issa agreed to buy the UK supermarket group in a £6.8bn deal (The Financial Times £, The Times £, The Daily Mail, Sky News)
Shares in drinks mixer group Fevertree have fallen sharply today as the pandemic continues to rock its bottom line. (The Daily Mail)
Household confidence has surged to its highest level since the start of the pandemic on the back of the government's announcement of a road map out of lockdown, a closely watched survey suggests (The Times £). Consumer confidence has recovered to its highest level in a year with households becoming more optimistic about their financial prospects as lockdowns ease (Sky News).
Faux meat and dairy start-ups pulled in record funding last year, new data has shown, as early-stage investors hunted for the new Tesla of food tech. (The Financial Times £)
The FT's Gillian Tett looks at how the KitKat went global. From wasabi to matcha flavours, she looks at what the British snack's reinvention in Japan tells us about cultural identities. (The Financial Times £)
Writing on Deliveroo's listing, The FT's Merryn Somerset Webb welcomes the "far from perfect" effort to include retail investors, by offering customers £50m of shares. "One of the maddening things about the recent boom in both IPOs and secondary offerings in the UK over the past year has been the way that ordinary investors have been excluded." (The Financial Times £)
Bottled water should be a luxury, not a necessity, writes The FT. "Fancy mineral water drunk by people who already have potable water on tap is a luxury that can pay for its environmental remedies. The greater problem is that billions of people drink bottled water out of necessity, either because the public alternative is not safe, or because there is none at all." (The Financial Times £)