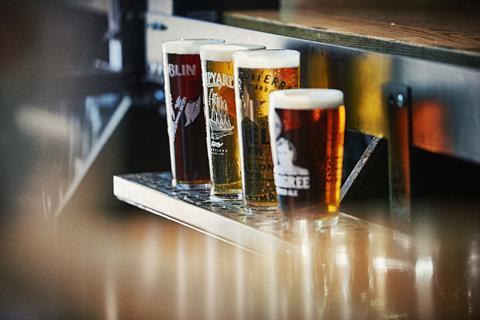 Marston's has rejected a £693m offer from the Beverly Hills-based private equity group Platinum Equity on the basis that it "significantly undervalues" the business (The Financial Times £).
The pub group's board unanimously dismissed the offer and two earlier proposals made in December worth 88p and 95p a share, adding the earlier offers had been received before Marston's announced it was taking over 156 high quality pubs from SA Brain, the Welsh brewer, which would boost its earnings in the first full year of trading (The Times £).
Shares in the 1,700-pub and brewing business jumped 6% on the back of the 105p-per-share bid from Platinum Equity Advisors (The Mail).
Losses to Scotch whisky exports after tariffs were imposed by the US have reached £500m, according to an industry body (The Guardian).
British fishermen have been told that they face a permanent ban on selling oysters, mussels and scallops to the Continent because they no longer comply with European food safety rules (The Times £).
Amazon is expected to say it logged more than $100bn (£73bn) in revenue during the last three months of 2020, the first time it has done so in one quarter, as millions flocked to the site for Christmas shopping during the pandemic (The Telegraph).
A Big Read in The Financial Times (£) looks at the unexpected rise of the discount megastore. "The rapid growth of chains such as B&M, Action and Home Bargains is proving that physical retail can be profitable — if the price is low."
The online fashion retailer Asos is the new owner of Topshop and other leading brands from Sir Philip Green's Arcadia empire after a £330m deal that puts thousands of jobs at risk (The Guardian).
The boss of Asos has claimed that Topshop and other high street brands in Sir Philip Green's collapsed empire have been "liberated" after the online retailer announced a £295m deal to acquire them (The Times £).
The deal will trigger 2,500 job losses as online retailer buys the brands but not the 70 high street stores (The Telegraph).
The manufacturing sector expanded at its slowest pace in three months in January as new orders slipped during the latest lockdown (The Times £). The final IHS Markit/CIPS manufacturing Purchasing Managers' Index fell to 54.1, higher than a preliminary reading for January of 52.9 but down from 57.5 in December. Any figure above 50 signifies growth.
Figures show UK sales of jigsaws reached £100m in 2020, up 38% on the previous year (The Guardian). Covid-19 restrictions on socialising also resulted in more puzzles being bought for adults rather than children, which is not the norm, with 15m sold.