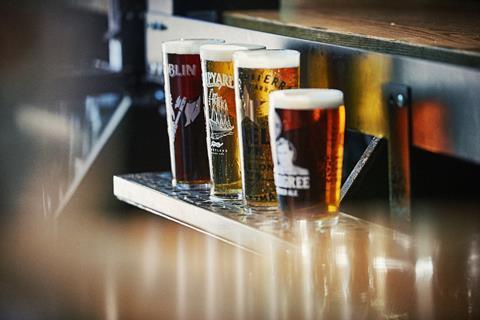 The head of the UK's largest listed pub group, Mitchell's & Butlers, fears "unhelpful and contradictory" messaging from the government about indoor hospitality reopening and the variant that first emerged in India could "spook" customers and damage demand (The Financial Times £).
Customers have been braving the wet weather to flock back to their local for a pint, according to the pub groups Mitchells & Butlers and Marston's, which have reported strong demand since reopening in mid-April (The Guardian).
The ravages of the coronavirus pandemic were laid bare yesterday as two of Britain's biggest pub companies reported cumulative half-year losses of more than £300m and £1.1bn of lost sales (The Times £). Mitchells & Butlers, which owns the All Bar One and Harvester chains, slumped to a pre-tax loss of £200m, while pre-tax losses at Marston's deepened from £31.1m to £105.5m.
Mitchells & Butlers has seen its half-year losses jump from £121m to £200m following stiff Covid-19 restrictions that led to its venues temporarily shutting down (The Mail).
Pub group Marston's slumped to a £105.5m pre-tax loss in the 26 weeks to 3 April as lockdown restrictions hit the business hard (The Mail).
The Lex column in The Financial Times (£) says it may take rather more than ultra-thirsty customers to repair balance sheets at pub groups.
Premier Foods is set to reinstate its dividend for the first time in 13 years after a surge in sales of its Bisto gravy and Oxo cubes led to a more than doubling of profits (The Financial Times £).
The food conglomerate has enjoyed a dramatic revival during the crisis after a decade of struggling with ballooning debt, pension deficit and sliding sales (The Times £).
Liz Truss has defended plans for a post-Brexit trade deal with Australia amid reports of a cabinet split over the impact on British farmers of granting tariff-free access to the UK market (The Guardian).
Jitse Groen, the boss of Just Eat Takeaway, owes a debt of gratitude to Deliveroo, writes The Times (£). "The delivery app's ill-fated stock market float has deflected attention from the Dutch billionaire's mounting woes."
Crowdfunding platform Crowdcube has been ordered to repay an investor £18,000 over an "at best unclear, and at worst misleading" fundraising pitch in a decision that could result in the industry being hit by a series of compensation claims (The Times £).
A surge in oil prices and a rise in household gas and electricity bills pushed UK inflation to 1.5% in April, its highest level since the start of the coronavirus pandemic in March 2020, according to official figures (The Guardian).
Argentine farmers are braced for a showdown with the government as they prepare for a nine-day strike, starting on Thursday, to protest against a month-long suspension of beef exports aimed at controlling spiralling inflation (The Financial Times £).