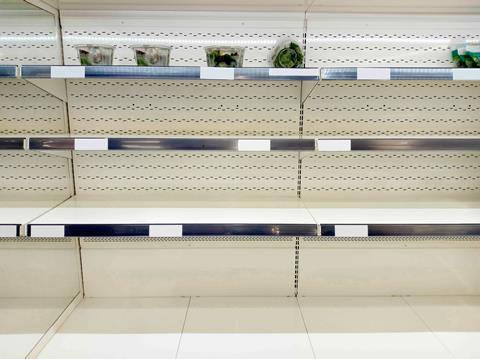 Boris Johnson is holding emergency talks to avert Christmas food shortages after France banned freight and travel from the UK. The prime minister is chairing a crisis Cobra meeting of senior ministers and officials amid fears in Whitehall that some imported foodstuffs could run out in as little as two weeks (Sky News). Britain's supermarket shelves may soon stand empty as France's coronavirus ban on British lorries is set to stop Continental hauliers bringing in vital festive food supplies, industry bosses have warned (The Daily Mail). Border restrictions could mean disruption to food supplies, as well as difficulties in meeting orders of British goods in continental Europe (The BBC).
Britain's ports have blamed the threat of post-Brexit food shortages on supermarket reliance on cheap "just-in-time" deliveries, as they come under fire for blockages at freight gateways. (The Telegraph)
Covid-struck Christmas delivers test of strength for UK logistics as Brexit looms – while grocers are coping with the surge in online shopping, other importers are feeling the Christmas crunch (The Telegraph). Britain's courier companies faced one of their biggest logistical challenges this Christmas with a surge in demand for deliveries that in a normal year would have overwhelmed them (The Financial Times £).
High streets were last night tipped into renewed crisis in the peak Christmas trading season when the prime minister put London, the southeast and east England under tougher restrictions and told non-essential retailers to close (The Times £). London's shops and businesses in despair as new Covid curbs halt Christmas bonanza – shopkeepers' hopes for a pre-Christmas sales boost were devastated by the announcement of tier 4 (The Guardian). Retailers are calling on the government to step up financial support for businesses in the south and east of England which have been forced to close in the last days before Christmas (The Guardian). Retail bosses are begging Rishi Sunak to extend a business rates holiday as fears grow that a new Covid crackdown could put thousands of jobs at risk (The Telegraph).
With a patchwork of restrictions around the country and the southeast in tier 4, hospitality is in disarray, writes The Times. The three million workers in the UK hospitality industry have alternately got ready to reopen and prepared to close again as Covid restrictions have shifted (The Times £).
The pound is expected to plummet on the foreign-exchange markets if Boris Johnson abandons talks on a Brexit deal by tomorrow (The Times £). The pound has fallen as European countries closed their borders to the UK following the discovery of a new strain of the coronavirus (Sky News).
Confidence among business owners hit a nine-month high after progress was made on a coronavirus vaccine, although the latest pandemic restrictions are certain to hit sentiment. (The Times £)
The billionaire owners of Asda are offering to fund a legal challenge for landlords against the coffee chain Caffè Nero. Borrowing a tactic used by the retail tycoon Mike Ashley, who funded an effort to overturn Debenhams' CVA last year, the brothers hope to derail the insolvency — and ultimately take control of Nero. (The Times £)
Some of the best-known neighbourhood names for independent shops have a new owner after Bestway Wholesale bought Costcutter yesterday from Bibby Line Group for an undisclosed sum. (The Times £)
Mastercard's Richard Haythornthwaite has been named Ocado's chairman, replacing Stuart Rose. Haythornthwaite, chairman of the financial giant, will join in January as an independent director before taking over after the online grocer's annual general meeting in May. (The Daily Mail)
Alcohol sales fell during 2020 as the prolonged closure of pubs and bars cancelled out a rise in home drinking during lockdown and more people developed a taste for non-alcoholic alternatives. (The Guardian)
Five shopping days until Christmas and even with many plans thrown into chaos yesterday, but Morrisons boss David Potts is sure of one thing. There will be celebrations – families will still do what they can to enjoy the day. "Customers have been shopping a bit earlier, things they can buy early and put them away and making sure they've got what they need, and we've seen that in our sales," he tells The Daily Mail.
Put grocers back on your shopping list, The Mail tells investors, urging them to bag that bargain in beaten-down supermarkets as online shopping takes off. "The shares in supermarkets that fed the nation in lockdown were overlooked. But the reassessment of the prospects for the UK in 2021 seems likely to reverse this, especially since it seems that enthusiasm for home cooking will not be much lessened by a return to normality." (The Daily Mail)
BarkBox this week announced plans to go public by merging with blank cheque vehicle Northern Star Acquisition at a $1.6bn enterprise value. The FT writes: "The problem is that there is no shortage of competitors. Chewy and Petco — which filed for an IPO this month — are the biggest… Both Chewy and Petco are also lossmaking. But neither relies on the novelty of selling monthly box subscriptions. It is a business model that is notoriously fickle. Investors looking to invest BarkBox are barking up the wrong tree." (The Financial Times £)
Gourmet Burger Kitchen was worth £120m four years ago – The Times ask why has it just sold for £6m? There's blood on the streets in the restaurant industry — but while most investors are running for the hills, some are pouncing on stricken brands. (The Times £)