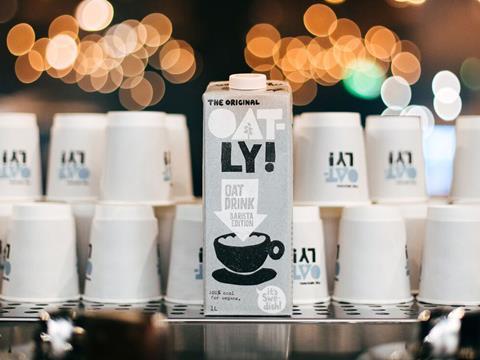 Shares in Oatly have surged by 30% on the company's US stock market debut, valuing the alt-milk maker at $13bn, as investors bet runaway demand from consumers for plant-based food alternatives will continue (The Guardian). Oatly, the plant-based milk company whose celebrity backers include Oprah Winfrey and Natalie Portman, saw its shares soar on its stock market launch (The BBC). A Swedish oat milk producer has been floated on the Nasdaq stock exchange in New York at a price of $17 a share, valuing the company at nearly $10 billion (The Times £).
Investors will have had to bear in mind that the company has a history of losses and does not intend to pay a dividend "for the foreseeable future", with the IPO proceeds being devoted entirely to investment and expansion… [But] That competitive landscape does not appear to have deterred investors. They believe this is a company that captures the zeitgeist. (Sky News)
Tonic water maker FeverTree has said it expects the growing trend to consume mixed drinks at home will remain in place even as restrictions on hospitality venues ease (The Daily Mail). The closures of pubs and bars during the pandemic could not stop FeverTree from reporting a 10.1 per cent year-on-year sales rise yesterday (The Times £).
The 5p charge for a single-use carrier bag doubles to 10p from today – and it is now going to apply to all businesses in England (Sky News). All stores, big and small, have to apply the charge from Friday. Until now, smaller retailers were exempt. (The BBC)
Farming groups have warned that a proposed free trade deal with Australia could imperil livelihoods (Sky News). Senior ministers have met to discuss concerns about how a zero-tariffs free-trade deal with Australia would affect UK farmers (The BBC).
The hotly anticipated float of Oxford Cannabinoid Technologies will take place in London today. The British cannabis research firm, which is backed by US rapper Snoop Dogg, is the latest in a flurry of marijuana-based companies to opt for a UK listing. (The Daily Mail)
Factories have boomed this month, enjoying the fastest growth in orders for almost four years despite signs of cost pressures caused by bottlenecks in the supply chain. (The Times £)
The Guardian writes of the "the silent battle between vegetarians and vegans". Anecdotally, the current zeitgeisty cool surrounding plant-based food is increasingly pushing vegetarian options off menus. Vegetarians are seeing their halloumi burgers, sour cream-dressed burritos or blue cheese and mushroom wellingtons removed in favour of vegan meat-free dishes. (The Guardian)