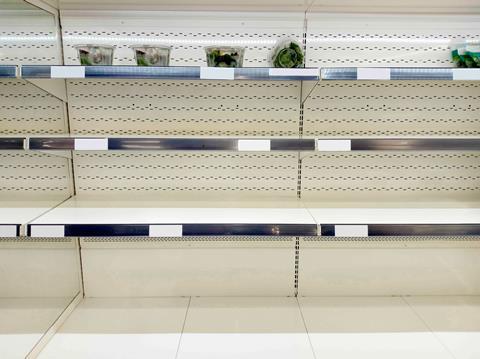 Supermarkets apologised for empty shelves in stores yesterday amid warnings that the "pingdemic" was putting a strain on supply chains (The Times £).
With shops in some areas suffering shortages, and firms in sectors from petrol stations to the postal service affected by absences, the government is being urged to include supermarket staff, lorry drivers and other frontline workers on a list of those exempted from self-isolation rules (The Guardian).
The boss of Iceland has said there is no need for people to start panic buying, but has warned that rising numbers of retail workers being forced to self-isolate risks shutting shops (BBC News).
Marks & Spencer has warned that customers in Northern Ireland will face gaps on shelves and price increases due to "labyrinthine restrictions" related to post-Brexit customs checks (The Telegraph).
The chairman of Marks & Spencer has raised the alarm over the prospect of displaying empty supermarket shelves after the introduction of full customs checks between Great Britain and Northern Ireland (The Times £).
Ahead of a government statement on the issue, Archie Norman said the retailer was already planning not to supply some Christmas products to Northern Ireland because of the risk that fresh food will be impeded under forthcoming arrangements (The Guardian).
Chairman Archie Norman told Radio Four's Today Programme the changes could mean higher prices and less choice for Northern Ireland customers (BBC News).
Archie Norman, the former boss of Asda, is being given a highly unusual signing-on fee of £1.75m to join the board of buyout group Bridgepoint as the senior independent director (The Times £).
BrewDog swung into the red last year as booming sales of its craft beers online during Covid-19 pandemic lockdowns failed to offset the impact of bar closures (The Guardian).
Asda has approached the boss of Fat Face, the high street fashion brand, about taking the helm at George, its clothing arm, as the supermarket chain's new owners orchestrate a leadership overhaul (Sky News).
Royal Mail is hoping the shift to online shopping and home delivery is a permanent trend and not just a pandemic blip as it recorded positive data on parcel volumes but a decline in letters (The Times £).
Investors tucked into Compass Group, the world's biggest caterer, after analysts dismissed concerns that working from home would leave an unfillable hole in its revenues, The Times (£) writes in its Tempus City column.
Philip Morris could use the acquisition of Vectura, the British respiratory drugs company, to make tobacco products more addictive, the heads of two US health organisations have claimed (The Times £).
The boss of Marlboro cigarettes-maker Philip Morris International has defended his plans to buy British pharmaceutical firm Vectura Group (The Mail).