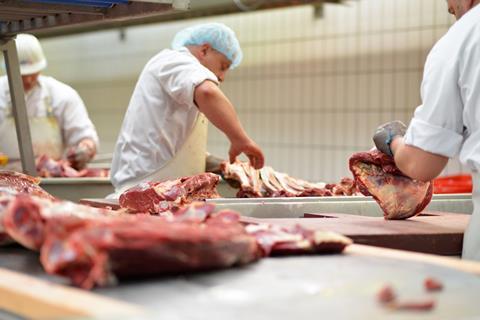 Supermarket depot workers and food manufacturers will be exempt from quarantine rules as the government tries to prevent food supply problems (The BBC). Around 10,000 workers in the food supply chain industry are to become exempt from coronavirus self-isolation rules – but this will not include supermarket staff, the government has said (Sky News). Workers from 16 key sectors including health, transport and energy will not have to isolate after being pinged by the NHS Covid app, as it was revealed that more than 600,000 people in England and Wales were sent self-isolation alerts last week (The Guardian)
Emergency measures to exempt food supply chain workers from coronavirus self-isolation rules will not be extended to other businesses, Environment Secretary George Eustice has said. (Sky News)
Supermarkets have warned the rising number of retail workers being forced to self-isolate is beginning to affect the availability of some products. (The BBC)
On Thursday the British Retail Consortium added its voice to the chorus of trade bodies and business leaders warning that staff shortages, caused by the huge number of healthy workers self-isolating after being "pinged" by NHS test and trace, was "putting increasing pressure on retailers' ability to maintain opening hours and keep shelves stocked". (The Guardian)
Bankers and advisers working on the £6.3 billion takeover of Wm Morrison will enjoy a £312.5m payday, documents have revealed (The Times £). Bankers and advisers are in line for a £275m payday from the proposed takeover of the British supermarket Morrisons, according to newly published documents (The Guardian).
The private equity firm seeking to snap up Morrisons has unveiled plans for a sweeping review of grocer's property portfolio, as bankers and lawyers prepare to share in a £300m payday if the deal goes ahead. (The Telegraph)
Kwasi Kwarteng faced a backlash last night after he supported the £6.3billion takeover of Morrisons by private equity. (The Daily Mail)
Alex Brummer in The Daily Mail has criticised Kwarteng's comments: "That the Business Secretary, Kwasi Kwarteng, failed to make this distinction between real investment and financially driven transactions is quite frankly startling… But there can be no escaping that Fortress and friends aim to buy a grocery star on the cheap and engage in the kind of financial engineering which has seen great chunks of the High Street laid to ruin." (The Daily Mail)
"Nothing gets pulses racing at UK newspapers like a takeover battle involving one of the country's main grocery chains," writes The FT. "All of this attention has been a bit disorientating for private equity groups doing business in the UK… It's almost as though the private equity firms weren't aware of what would happen if they started bidding for the UK media's favourite sector." (The Financial Times £)
Unilever warned yesterday that it was facing its toughest inflationary pressures in a decade as the costs of raw materials, packaging and transport rise sharply and damage its profit margins (The Times £). Surging demand for ice creams as temperatures rise and lockdown restrictions are eased has lifted sales at Unilever – but rising costs are squeezing profits (The Daily Mail).
The Times writes: "Higher input costs have been the monster coming over the hill for many companies for months now. Unilever, one of the world's largest consumer goods group making everything from Hellmann's mayonnaise to Sure deodorant, is an obvious casualty." (The Times £)
The boss of Unilever has insisted the consumer goods behemoth is not "woke", as he sought to distance it from a decision by its Ben & Jerry's brand to stop selling ice cream in occupied Palestinian territories. (The Telegraph)
The FT writes that the Ben & Jerry's situation "is a sticky mess". "Incapable of offering a coherent response, Unilever seems to be praying the backlash will not grow into a broader boycott of its products… [Unilever's[ distancing act is deeply disingenuous. Ben & Jerry's independence is carefully limited in the merger agreement." (The Financial Times £)
Hotel Chocolat is tapping shareholders for tens of millions of pounds in new equity as it eyes a post-pandemic spike in sales. (Sky News)
The easing of lockdown restrictions in Britain has helped to push Britvic's revenues past £1 billion for the first nine months of the year. (The Times £)
GlaxoSmithKline has appointed the head of its consumer healthcare division to lead that business after it is demerged next year. GSK has chosen Brian McNamara as chief executive-designate after a six-month search involving Spencer Stuart and Egon Zehnder, the headhunters. (The Times £)
Consumer confidence has edged above pre-Covid levels for the first time, a survey suggests. (The Times £)