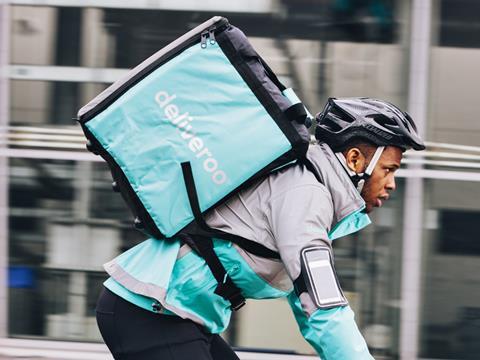 Deliveroo is targeting a market capitalisation of between £7.6bn and £8.8bn in its stock market debut, setting the stage for what could be London's biggest initial public offering in a decade (The Financial Times £).
The Times (£) writes the loss-making food delivery business that flirted with insolvency just over a year ago is preparing London's largest stock market float in a decade.
The Amazon-backed food delivery app that has seen business boom in lockdown has set a price of between 390p and 460p for its shares, alongside a short trading update showing bumper sales (The Mail).
Will Shu, the founder of the meal delivery service, is expected to cash in 6.7m shares worth up to £30m when the company launches on the stock market on 7 April (The Guardian). He will retain a 6.3% stake, worth about £550m. Existing shareholders, including Amazon and private equity firms Bridgepoint, Index and Greenoak, will cash in shares worth £536m, according to the group's prospectus published on Monday.
A column in The Telegraph says Deliveroo investors will need strong stomachs to swallow £9bn valuation. "For company that racked up losses of £224m during a lockdown boom, this price looks greedy."
The Times (£) also says the valuation is "far too much to swallow".
The Guardian's business editorial calls the valuation "mind-boggling". "At the top of the range, Deliveroo will be worth half a Tesco. Good luck to the buyers."
Deliveroo is facing investigations in Europe over the legal status of its riders, potentially casting a shadow over its £9bn stock market listing (The Times £).
US snacks maker Mondelez has agreed to acquire sports nutrition brand Grenade, its first UK acquisition since chocolate company Cadbury as it seeks to diversify into health-focused products (The Financial Times £).
Cadbury's owner has bought a British brand of protein bars as it shifts towards healthier products (The Mail).
Grenade, founded by Alan and Juliet Barratt in 2010, exports bars, drinks and shakes to more than 50 countries, marketing itself to gym-goers who want high-protein and low-sugar snacks (The Times £).
Whisky, cheese and chocolate producers have suffered the biggest post-Brexit export losses in the food and drink sector, new figures from HMRC have shown (The Guardian).
Beef and pork exports fell by 91.5% and 86.9%, respectively, in the year to January and exports of salmon plunged by 98%, according to an analysis of HM Revenue & Customs data by the Food and Drink Federation (The Times £).
Kraft Heinz wants to reinvigorate old brands such as the blue-boxed mac and cheese as part of efforts to push up sales and profits from existing products, a marked shift in strategy from the focus on large-scale acquisitions espoused by its key investor, the Brazilian investment group 3G (The Financial Times £).
Small local grocery stores and online retailers are likely to benefit from permanent changes in shopping habits after a year of Covid-19 restrictions, according to a report one year on from the first lockdown (The Guardian). More than nine in 10 of people who have shopped locally say they will continue to do so, a survey by Barclaycard found.
Dozens of former subpostmasters have begun a court of appeal challenge against their convictions for theft, fraud and false accounting they claim was due to computing errors (The Guardian).
An American fried chicken chain that hit the headlines two years ago — when its fried chicken, pickle and mayo sandwich prompted long lines outside stores, shortages and even fist-fights — is heading to Britain (The Times £). Popeyes is planning to open 350 restaurants in the UK over the next decade as part of a European expansion plan.