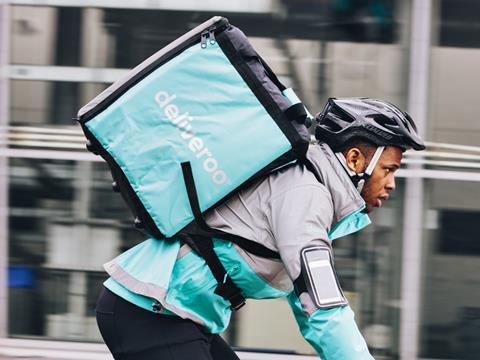 Deliveroo scored a fresh victory in the legal fight for its riders to be recognised as self-employed yesterday when the Court of Appeal ruled in its favour (The Times £). Deliveroo has won the latest battle in the long-running legal fight over the employment status of its riders after senior judges dismissed an appeal by a trade union (Sky News). Deliveroo shares raced ahead as the takeaway app won the latest showdown in a long-running legal battle about the status of its riders (The Daily Mail).
Citadel and BlackRock are among the investment firms that have quickly slashed their bets against Morrisons after an abrupt surge in the UK supermarket group's share price. (The Financial Times £)
Inflation will rise above 3% this year but the unexpected surge will prove "transitory", the Bank of England warned as Rishi Sunak played down concerns about rising prices (The Times £). The Bank of England has forecast a temporary surge in inflation above 3pc as Britain's recovery takes off, amid growing fears that ultra-low interest rates are creating a potentially disastrous economic cliff edge (The Telegraph). The Bank of England has raised its expectations for inflation but reiterated its view that the coronavirus crisis-linked spike in price rises of recent months does not represent a looming crisis for the economy (Sky News) Inflation is expected to rise above 3 per cent 'for a temporary period' this year as Britain's economic recovery continues at pace, the Bank of England has said (The Daily Mail).
UK prime minister Boris Johnson is pressing ahead with a ban on junk food advertising on television before 9pm and online at all times from the end of 2022 to fight childhood obesity, in spite of ministerial resistance and industry anger (The Financial Times £). A ban on junk food adverts before the 9pm TV watershed will come into force at the end of next year, with increased online restrictions also introduced (Sky News).
Government plans to restrict junk food advertising on television and online have been criticised by campaigners who say they contain too many exemptions to affect rising levels of obesity in the UK (The Guardian).
The owner of Poundland has reported a 16.8% increase in profits in the first half of its financial year after benefiting from new store openings and the easing of Covid restrictions (The Times £). About 10% of Poundland products are no longer priced at £1, the discount retailer has said (The BBC).
The Times' Harry Wallop writes on speedy grocery: "For now, speedy grocery is growing rapidly, but that's partly because — in the fight for new customers — the companies are spaffing millions of their VC backers' investments on giving away discounts and free delivery… I'm not convinced if, or indeed how, these companies will ever make any money." (The Times £)