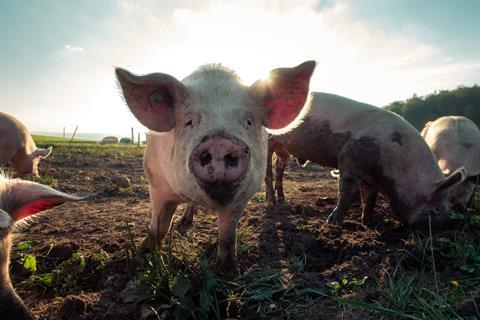 The UK's pig producers have warned they are weeks away from culling healthy animals after labour shortages in abattoirs caused a backlog of 70,000 surplus animals on farms (The Financial Times £). Labour shortages at meat processing plants have resulted in a surplus of 70,000 pigs on farms, the industry's trade body has warned (Sky News).
The UK is heading towards a full-blown recycling crisis which could cost the economy billions, a FTSE 100 boss has warned. Miles Roberts, chief executive of packaging giant DS Smith, said Britain's 'creaking infrastructure' is no longer fit to cope with the huge shift in shopping habits. (The Daily Mail)
UK supermarkets could see food shortages at Christmas due to Brexit-related supply chain disruption, the chairman of Tesco has warned. John Allan, who has overseen the country's largest grocer since 2015, said the Government should change rules for lorry drivers to allow for more emergency workers from overseas to help solve the problem. (The Daily Mail)
Why are UK businesses being hit by shortages at the moment, asks Sky News? This summer, the economy has been hit by several factors including labour shortages, new immigration rules, and the lingering effects of the pandemic. (Sky News)
A company which supplies food to care homes and restaurants says it is taking "drastic action" to try to get round the shortage of UK lorry drivers. The boss of Country Range said the group was buying smaller vans in the face of "significant" problems caused by a lack of qualified HGV drivers. (The BBC)
Longer term, without sizeable special visa schemes or a broad labour mobility agreement with the EU, filling the vacancies will mean having to offer better pay and conditions to UK workers. Where technology cannot substitute, training will have to be expanded to provide the skills needed, in everything from plumbing to haulage. (The Financial Times £)
Pay for HGV drivers jumped by more than a tenth in just five months as the industry struggles with severe worker shortages that are straining Britain's supply chains (The Telegraph). A "dramatic" recovery in the jobs market has led to wage inflation and shortages of qualified workers in some industries, according to the UK recruiter Hays (The Guardian).
The new owner of Asda and Leon Restaurants has reported a 57.7% rise in second-quarter revenue to $6.5 billion as lockdown restrictions eased further. (The Times £)
Established food retailers are at risk of a "cannibalisation" of their profits by rapid delivery companies such as Getir and Weezy if they fail to respond to the competition, analysts have warned. (The Times £)
Will the bid battle for Wm Morrison turn into a private equity supermarket sweep? Investors seem confident. J Sainsbury surged this week to a multiyear high. So did Marks and Spencer, whose 33% surge through August can only be explained partly by improved trading. (The Financial Times £)
A company whose cat food has been at the centre of an inquiry into a spate of cat deaths will be allowed to restart production, as an investigation found no evidence that its products caused an illness thought to have affected thousands of pets. (The Guardian)
Payments using contactless cards surged as the UK emerged from lockdowns and consumers started spending again. The number of purchases made in May via contactless technology doubled compared with the same month a year earlier, and was up 50% on May 2019. (The BBC)
British Land has bought a car park on the edge of the City for £20million – and plans to turn it into a depot for online deliveries. (The Daily Mail)
A local council has lent £150m to The Hut Group's billionaire founder following a raft of property transactions ahead of his company's stock market flotation. (The Telegraph)