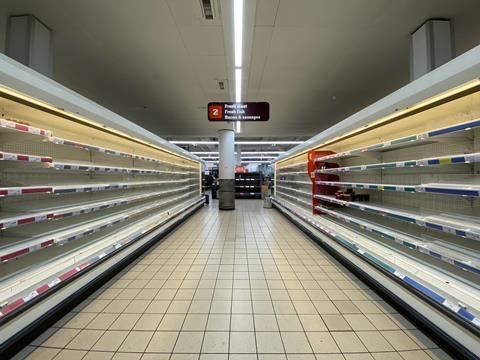 Ranjit Singh Boparan – the food industry's 'Chicken King' – has warned Sky News of a looming Christmas turkey crisis as the 'pingdemic' and Brexit hit staffing levels at the meat supplier.
Christmas shopping risks being ruined by a shortage of lorry drivers caused by Covid restrictions and the migration of foreign staff, a senior manager at one of Britain's biggest logistics companies has warned (The Telegraph).
One of Just Eat Takeaway.com's largest shareholders has called for the food delivery group to take urgent action to prop up its share price, to avoid a hostile takeover (The Financial Times £).
Food and drinks brands are pushing back against UK government proposals to make them pay for litter picking and business waste disposal as part of a global drive to make companies more responsible for used packaging (The Financial Times £).
HM Customs & Revenue is facing a potential "avalanche" of claims for damages after Swedish drinks maker Kopparberg launched a High Court claim accusing the UK government of unlawful tax discrimination (The Financial Times £).
Shares in B&M were up for sale amid worries that the discounter will find it tricky to pass on higher costs to its shoppers, writes the Tempus shares column in The Times (£).
Food producer Cranswick has announced further investment towards its production facilities as it revealed exports to the Far East helped boost first-quarter revenues (The Mail).
Tesco Bank has announced it is closing all of its customers' current accounts from the end of November, and that it will write to them in the next fortnight to advise them what they need to do (The Guardian).
Philip Morris International has closed almost all of its recently opened shops in Britain for its heated tobacco brand, two years after revealing ambitious expansion plans (The Times £).