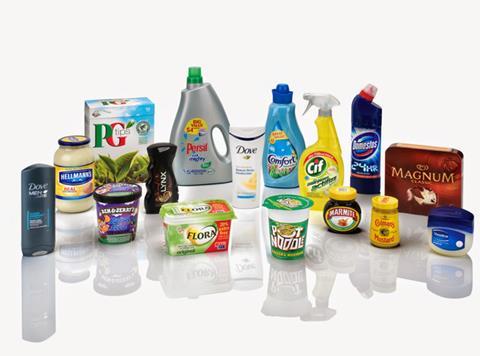 Unilever sounds price rise klaxon as manufacturers grapple cost pressures. Graeme Pitkethly, the chief financial officer, said that costs related to the pandemic had chipped 90 basis points from the company's margins. He added: "We're seeing levels of commodity inflation that we have not seen in a very long time." (Sky News)
Unilever's underlying sales grew in the first three months of 2021 as locked-down consumers continued to keep their kitchen cupboards well stocked, and China's economy began to "normalise" (The Guardian). People continuing to eat at home on one hand and the easing of Covid-19 restrictions on the other helped Unilever to underlying sales growth of 5.7% in the first three months of the year (The Times £). Swelling demand for mayonnaise, Cornetto's and fabric cleaning products helped Unilever to report bolstering sales in the first quarter (The Daily Mail).
Unilever is to buy back €3bn of shares after strong sales of mayonnaise and ice-cream helped one of the world's largest consumer goods groups to report bumper first-quarter sales growth. (The Financial Times £)
It is refreshing that Unilever boss Alan Jope has taken to the airwaves to draw attention to the catastrophe unfolding in India, writes Alex Brummer in The Mail. "Unilever itself has hired 58 full-time doctors, is running 42 ambulances and has acquired 87 oxygen concentrators to help its 21,000 direct staff. For anyone worrying that Jope and his team might be neglecting shareholder value, they shouldn't." (The Daily Mail)
Amazon has reported its second straight quarter of $100bn-plus sales, comfortably beating Wall Street's targets as it continues to reap the rewards of changes in behaviour driven by the pandemic (The Financial Times £). Amazon's profits have more than tripled as homebound consumers continue to shop online, companies spend heavily on digital advertising and its powerhouse cloud computing division keeps growing (The Times £). Amazon's sales increased 44% to $108.5bn in the first three months of the year as the company's pandemic boom continued into 2021 (The Guardian). Amazon last night smashed Wall Street expectations as it reported another $100billion quarter (The Daily Mail). Amazon's profit in the first three months of 2021 came in at $8.1bn (£5.8bn) – more than triple what it was in the same period last year (Sky News). The pandemic could herald "a golden age" for Amazon, one analyst said (The BBC).
The Co-operative Group is to stop selling plastic "bags for life" because, with many shoppers using them only once, they have become as big a problem as the single-use carriers they replaced (The Guardian). The Co-op is to become the latest supermarket to remove plastic "bags for life" from sale in all of its stores (Sky News).
McDonald's growth has returned to pre-pandemic levels on the back of strong trading in Britain and robust demand for chicken sandwiches in America. (The Times £)
One of Deliveroo's first employees has raised $37m in funding to expand his delivery-only digital restaurant group after going it alone. (The Times £)
A secretive Cayman Islands-based tycoon has built large stakes worth more than £4 billion in two of the world's biggest tobacco companies. (The Times £)
US regulators have proposed banning menthol cigarettes, targeting a flavour that makes up roughly a third of total sales in the country, in an effort to snuff out tobacco-related illness and death. (The Financial Times £)