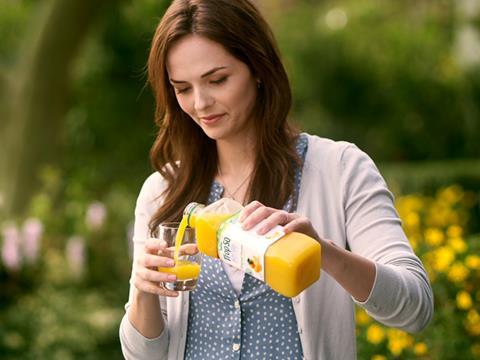 PepsiCo has agreed to sell a controlling stake in its Tropicana and Naked Juice brands to French private equity firm PAI Partners for $3.3bn, as it seeks to focus on calorie-free beverages, energy drinks and products that it claims are better for the environment such as SodaStream (The Financial Times £). Some of the world's most popular fruit juice drinks are changing hands after PepsiCo, the beverage and snacks conglomerate, sold a majority stake in brands including Tropicana to a French private equity firm (The Times £). Drinks giant Pepsi is selling juice brand Tropicana in a $3.3bn (£2.4bn) deal as health-conscious consumers ditch sugary drinks in favour of lower-calorie options (The Telegraph). The New York-based drinks and snack giant said it would retain a 39% interest in the joint venture with PAI Partners of France (Sky News). As PepsiCo's future strategy focusses on zero-calorie drinks, a reminder that hasn't been able to call its Naked Juice "all natural" for the best part of a decade, following a US lawsuit (The Guardian). Pepsico said that demand for its orange juice rose during the pandemic, as more people made breakfast at home, bucking a trend that has seen sales decline (The Daily Mail).
The boss of Greggs has rejected pressure to repay business rates relief, saying such a move would be "illogical" even as profits rebound to surpass pre-pandemic levels (The Telegraph). Greggs hit record profits in the first half of the year but has still decided to cling on to business rates relief (The Daily Mail). Rebounding sales and business rates relief have lifted profits at Greggs to record levels (The Times £). A partnership between Greggs and Just Eat has surged to a £40m business in just 18 months, as the bakery chain increases its home delivery offering (The Guardian).
Bakery chain Greggs has said it expects to create 500 new retail jobs in the coming months as it continues to open new outlets (The BBC). Greggs expects to create around 500 new jobs in the coming months as profits bounced back to outstrip pre-pandemic levels (Sky News).
Profits at bakery chain Greggs and Domino's Pizza have surged above pre-pandemic levels, boosted by tax cuts, the Euros football tournament and consumers' unabated appetite for fast food delivered at home (The Financial Times £).
A surge in sales and profits on the back of football fans' pizza feasts has prompted Domino's to return more cash to investors in a bumper share buyback and dividend (The Times £).
Petrol prices have reached an eight-year high after nine straight months of rises, according to the RAC. (The BBC)
The Times writes: "On the petrol price surge, however, there are good reasons to think that it will be temporary, or, as central bankers like to say, transitory. This does not mean that prices will fall, rather that the pace of increase will slow or stop. If we look at what has happened to crude oil prices, most of the increase is behind us." (The Times £)
Seb James, the boss of Boots, wants to help the nation's women rediscover the glamour factor after a year in lockdown Lycra, with their faces half-hidden behind masks. He believes demand for make-up will soar as women return to work and start to socialise again. (The Daily Mail)