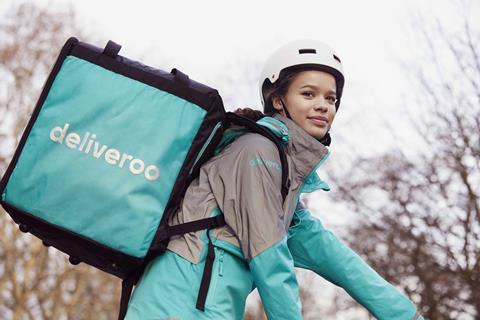 Deliveroo has pressed the start button on a listing on the London Stock Exchange that is expected to value the loss-making food delivery business at more than $7 billion (The Times £, The Daily Mail). Deliveroo, which operators in 12 markets, said it was committed to making the UK its "long-term home" (The BBC).
Rishi Sunak brands Deliveroo a 'British tech success' as the food delivery giant announces it has chosen London for its stock market debut (The Daily Mail). Chancellor Rishi Sunak has welcomed confirmation by Deliveroo that its highly-anticipated potential stock market float will take place in London (Sky News).
The key for Deliveroo in choosing London was gaining an easing of listing rules for dual class of shares. Shu can continue to innovate and expand without fear of premature takeover. The authorities are keen to capture Deliveroo for the City after a woeful IPO experience as a result of post-referendum uncertainty. (The Daily Mail)
Failure to deliver a profit won't lessen appetite for Deliveroo float, writes The Times. "The loss-making company, which was founded in 2013, was almost floored by the beginning of the Covid-19 pandemic, only to prosper after the government put the country into lockdown, a decision that sent demand for takeaway deliveries to people's homes through the roof." (The Times £)
The FT's Lombard column writes that Deliveroo was once considered a weak competitor and an acquisition target, until Covid-19 came to lift all boats. "Now it's a British tech champion, using pandemic-inflated metrics to give existing backers an exit opportunity and raise yet more cash to burn in search of a functional business model. Those rushing to celebrate its choice of IPO venue as a victory for regulatory liberalism might soon wish they had waited to see exactly what's inside the box." (The Financial Times £)
The Times' Alistair Osborne said the listing news does not reflect well on the CMA. "The regulator was already looking daft enough over Deliveroo. First, it came to the wacko conclusion that during a pandemic, with the eating-out market shut, the likeliest casualty was the kangaroo-branded takeaway business. Then, two months later, when it finally spotted that Deliveroo was in fact wolfing it down, it simply cleared Amazon's stake anyway." (The Times £)
The White House has agreed to suspend retaliatory US tariffs on UK exports including scotch whisky, raising hopes of improved relations as talks continue about a post-Brexit transatlantic trade deal (The Guardian). The Scotch whisky industry has welcomed a deal between the UK and US governments that has seen damaging tariffs, imposed by the Trump administration in 2019, suspended for four months (Sky News). The US has agreed to suspend tariffs on UK goods including single malt whiskies that were imposed in retaliation over subsidies to the aircraft maker Airbus (The BBC).
The opening of Amazon's first physical food store in the UK was not overlooked by the nation's journalists, who quickly outnumbered conventional shoppers by at least two-to-one, writes the FT's Alphaville. "In practice, the "just walk-in walk-out" PR felt a bit disingenuous. You cannot actually just walk in. A shopper needs a phone, an Amazon account (and by proxy, a bank account) as well as some iota of digital competence." (The Financial Times £)
This new till-less store – Amazon's first outside the US – feels like a big change, writes Sky News. It appears certain there will be much less queuing in future, partly because the company is apparently considering selling its tech to other supermarkets. (Sky News)
The Co-op Group, Britain's biggest mutual, is to hold a crunch board meeting next week amid pressure to follow rival supermarkets' example and repay £80m of state funding handed to it during the pandemic. (Sky News)
Strong sales during lockdowns have prompted B&M European Value Retail to increase its profit guidance for the year. (The Times £)
The race for speedy groceries has stepped up a gear with Dija, a new service being launched this morning, promising ten-minute deliveries in London. (The Times £)
The UK government is shopping for ways to ease retailers' £25bn business rates burden, writes The FT. An online sales tax or changes to way high street levy is calculated head the options being considered, but the Treasury is loath to lose revenue. (The Financial Times £)
The tax bill paid by Amazon in Britain could be "entirely wiped out" by Rishi Sunak's "super-deduction" scheme, campaigners have claimed. (The Times £)
M&S Bank is to shut all its branches, close current accounts used by up to 150,000 customers and launch a "digital credit option" that appears to be an in-house buy now, pay later scheme. (The Times £)
Reckitt Benckiser is "bear-free" after the last City analyst with a "sell" recommendation on the stock turned bullish. After two years as a Reckitt naysayer, David Hayes, a consumer staples analyst at Société Générale, did a sharp U-turn as he told clients to "buy" the consumer goods group's shares. (The Times £)
In a blessed relief for shoppers who are drowning in the firm's trademark grey bags after months of deliveries, Ocado drivers will be able to collect up to 99 carriers when they drop off goods. (The Telegraph)
The Philippines' top instant noodle producer and owner of UK meat substitute maker Quorn plans to raise as much as $1.5bn from what would be a record initial public offering in Manila. (The Financial Times £)