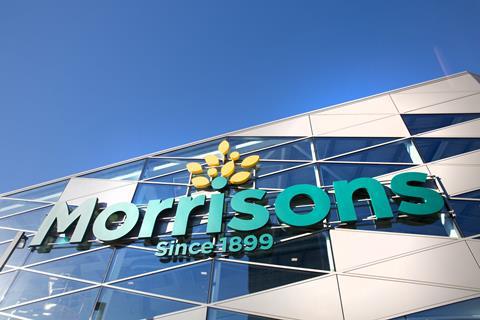 Ministers will request a meeting with executives at UK supermarket chain Morrisons over a pending £9.5bn takeover by a group of private equity firms, seeking reassurances over jobs and investment (The Financial Times £). Ministers will ask to meet with Morrisons' management to seek assurances about its future following a US takeover bid (The Telegraph). Morrisons chiefs are set to be quizzed by ministers over a takeover of the supermarket that could net them a £35million payout (The Daily Mail).
Fears over Morrisons estate being sold on cheap, writes The Times. The shops, warehouses and factories owned by Wm Morrison could be worth almost £9 billion — double the value the supermarket chain believes they are worth, raising concerns that a buyout firm could seize the assets on the cheap. (The Times £)
Alex Brummer in The Mail writes: "The very notion that Britain's innovative grocery sector responsible for 3.9m people across the food chain has become the plaything of buccaneers and private equity firms, which offer minimum transparency, is of huge public interest. Business Secretary Kwasi Kwarteng's desire for a meeting with Morrisons chairman Andy Higginson is recognition of what is at stake." (The Daily Mail)
Three forms of ownership will be pitted against one another in cut-throat supermarket industry, writes The FT. "Family owned Aldi and Lidl do not answer to dividend-hungry fund managers or limited partners eager for a sale to capture profits. Private equity funds need to consider this. To earn a good return from the eventual resale of supermarket chains, growth plans are needed, or large asset sales." (The Financial Times £)
UK supermarket chain Sainsbury's has increased its profit forecast after restrictions on eating out boosted grocery sales and as private equity buyers muscle in on the market (The Financial Times £). Sainsbury's has raised its profit outlook after sales surpassed its expectations in the last quarter despite the relaxation of lockdown restrictions (The Daily Mail).
Sainsbury's is battling a shortage of some fresh produce such as strawberries and salad as Ocado revealed a lack of delivery drivers has forced it to lend staff to some suppliers (The Telegraph). Sainsbury's has warned of gaps on shelves as supplies of some products including salads, beers and soft drinks run low because of shortages of lorry drivers and an uptick in staff forced to self-isolate because of covid-19 (The Guardian).
The boss of Sainsbury's has attempted to brush off speculation that it will be the next target for a takeover as he raised profit expectations after better than expected sales (The Times £). Sainsbury's bolstered its defences against potential takeover bids as the supermarket giant predicted bumper annual profits of £660m (The Daily Mail).
Alistair Osborne in The Times writes: "Sainsbury's can hardly be immune to some private equity-style financial engineering. About 60% of its £10.1 billion property portfolio is freehold… [Sainsbury's shares] are still on a March 2023 earnings multiple of 12.6 times — versus a Morrisons bid price of 18 times. Put like that, you wouldn't bet against a fishing trip for Sainsbury's." (The Times £)
Just how likely is an approach for Sainsbury's, asks The Times' Emma Powell? "There is more to attract suitors to supermarkets beyond the lowly price tags. Like peers, Sainsbury's is an asset-rich business that has the ability to throw off a lot of cash. Its credibility problem can be pinned on a struggle over more than decade to deliver sales growth and turn a consistently decent profit." (The Times £)
Sainsbury's is safe from a takeover – a for now, writes The Guardian's Nils Pratley. "The main factor may be Sainsbury's ownership of Argos and a bank, which makes it a messier proposition for private equity buyers who prefer clean lines. On that score, though, Roberts' strategy to "put food back at the heart of Sainsbury's" (which incidentally sounds an implicit criticism of his predecessor) should simplify matters." (The Guardian)
The explosion of growth in online food shopping during the pandemic has led to Ocado striking a new technology deal with a Spanish supermarket while losses have narrowed (The Times £). Ocado, the online grocer, has reported a 20% increase in retail sales and hailed a permanent shift in grocery shopping in the Covid-19 pandemic (The Guardian). Shares in Ocado climbed yesterday morning after it reported rising sales and narrowing losses and announced a new overseas partnership with a major Spanish supermarket (The Daily Mail).
Ocado's chief executive said the pandemic had changed the grocery market "for good" after the latest round of UK lockdown restrictions led to another surge in sales, although the company cautioned that investments would weigh on its bottom line (The Financial Times £). Ocado boss Tim Steiner declared the pandemic has changed the groceries market 'for good' after the online shopping firm posted another set of bumper sales (The Daily Mail).
Tuesday's trading updates from Sainsbury's and Ocado suggested there has been no let-up in the trend and customers remain firmly focused on meals at home despite the reopening of pubs, cafes and restaurants (Sky News). Shoppers are starting to return to pre-pandemic habits when it comes to buying food, according to two leading grocers (The BBC).
A surge in green coffee prices may soon begin percolating into costs paid by consumers for their daily caffeine fix, in the latest sign of how hot commodity markets are affecting the broader global economy. (The Financial Times £)
The former Sainsbury's chief executive Justin King has joined a fledgling drinks group, Severed Drinks, co-owned by the singer Ellie Goulding as a senior board adviser and made "a significant investment" in the business. (The Times £)
The advertising watchdog, the ASA, has banned an advert by controversial brewer Brewdog for misleading claims. (The BBC)
Pubs, restaurants and hotels employing more than 200,000 people have vowed to scrap compulsory face coverings on Freedom Day, risking a clash with unions who warned the move could put staff at risk (The Telegraph). Heathrow, the Gaucho restaurant chain and the City Pub Group are poised to continue with mask-wearing rules despite government plans to sweep away most safety measures from 19 July (The Guardian).