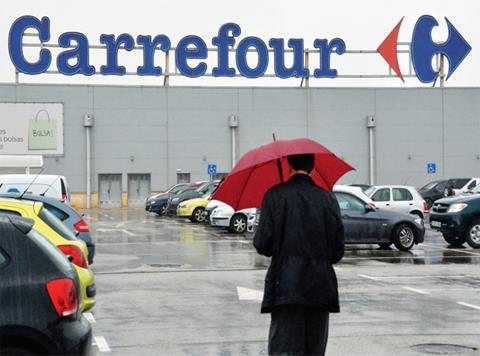 Tesco and the French supermarket group Carrefour have announced the end of a three-year alliance that was meant to lead to greater choice and lower prices for customers (The Guardian).
When it was signed in 2018, Britain's biggest grocer and its French counterpart saw the agreement as a way to reduce prices and provide greater choice for shoppers, but yesterday they said that they would not to extend it (The Times £).
Sainsbury's new CEO Simon Roberts was paid a £583,000 bonus in his first nine months in the job despite posting a full-year loss of £261m (The Times £).
Reckitt Benckiser has suffered a huge £2.5bn loss from the sale of its struggling Chinese baby milk arm to private equity firm Primavera (The Mail).
Reckitt Benckiser's botched baby milk formula acquisition was more expensive than all of its other deals combined (The Times £).
Alistair Osbourne in The Times (£) calls the $16.6bn baby milk blowout by Reckitt's former CEO Rakesh Kapoor "an absolute howler of a deal".
UK retail sales surged in May by the most since the Covid-19 pandemic began as shoppers returned to high streets across the country after lockdown measures were relaxed, according to industry figures from the British Retail Consortium (The Guardian).
Britain is on track for a consumer spending boom this summer with new figures from Barclaycard revealing that people splashed out on food, drink and clothes last month (The Times £).
The hospitality and retail industries are urging the government to tackle the £5bn of rent debt owed to landlords "as a matter of urgency" (The Times £).
The government must convince commercial landlords to forego some of the rent built up during the pandemic or face a wave of insolvencies when payments fall due in July, business leaders have warned (The Guardian).
G7 tax deal is welcome – but Treasury must now focus on unfair business rates, Nils Pratley writes in a business editorial in The Guardian. "Bricks-and-mortar retailers have been losing out to online-only operators for too long."
Experts have raised concerns that Amazon may escape paying significantly more tax in some of its biggest markets unless world leaders close a large loophole in a historic global deal (The Guardian).
The Financial Times (£) looks at why robot checkouts are on the rise in the age of Covid.
Food companies such as Nestlé offer some important lessons in how to keep customers and investors happy, The Financial Times (£) writes in an opinion column.
An opinion piece in The Financial Times (£) argues not to dismiss supermarket equal pay cases. "Recent decisions settle a long-running argument about whether certain jobs are comparable," the paper writes.