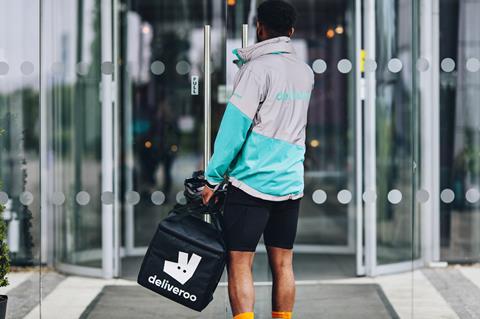 Fears that the reopening of pubs and restaurants would take a big bite out of Deliveroo's takings proved wide of the mark as the food delivery group upped its full-year guidance (The Times £). Food delivery group Deliveroo has upgraded its sales growth forecasts but warned that margins will be at the lower end of its earlier guidance for the year, as it prepares for Covid-19 restrictions to end in the UK (The Financial Times £). Food delivery business Deliveroo expects appetite for takeaways to continue even after the end of lockdowns as it raised its sales forecast for the year (The Telegraph).
"It's no gamechanger but an unscheduled second-quarter update should at least calm the nerves," writes The Times' Alistair Osborne. "There's no change to gross profit margin guidance from all the extra orders… [but] at least the figures show that the company, which works with 100,000 riders and 117,000 restaurants in 12 countries, isn't already having its lunch and dinner devoured by the reopening of the eating-out market." (The Times £)
The business secretary has scheduled a meeting with the boss of Morrisons for next Friday to discuss a private equity takeover of the supermarket (The Times £). Ministers were last night urged to probe the £6.3billion takeover of Morrisons over its potential impact on the UK's food supply chain (The Daily Mail).
Sales growth has slowed at B&M Bargains as the discount retailer faces tough comparisons with last summer's lockdown when shoppers rushed to buy patio furniture (The Times £).
Supermarket giant Sainsbury's says it has decided to stop selling CDs and DVDs as streaming services take their toll on sales of the products. (The BBC)
WH Smith has bought a collection of former Dixons Travel stores in airports as it expands its US InMotion tech and accessories business into the UK (The Times £). WH Smith has purchased a slew of former Dixons Travel outlets in UK airports even as demand for flights remains sluggish (The Daily Mail).
The number of workers on furlough is at the lowest level since the scheme began, according to the Office for National Statistics. (The Times £)
Nimisha Raja risked everything to get Nim's Fruit Crisps off the ground and just when it looked as if her gamble was starting to pay off the Covid-19 crisis threatened to bring her business crashing to the ground… Her response was to seek out a new market for her product. One promising avenue was the gin industry, where fruit-infused gins have become increasingly popular in recent times. (The Times £)
UK plc is the target of a private equity buying spree. Private equity firms have announced 124 deals for UK companies (both takeovers and minority stakes) with a combined value of £41.5bn so far in 2021, according to data company Dealogic. That was the highest value of deals by this point in the year since it started tracking transactions in 2005. (The Guardian)
The ultra-defined eyeliner looks and glamorous pouts modelled by the reality TV star Kylie Jenner on social media will soon be available to buy on the high street after it was announced her Kylie Cosmetics brand is to be sold in Boots. (The Guardian)