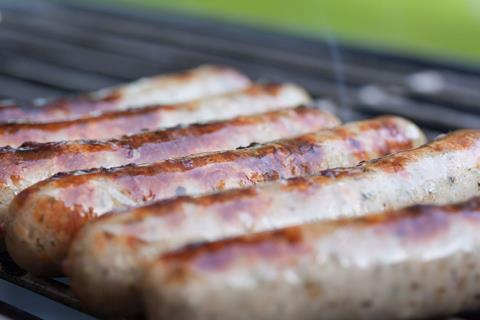 Boris Johnson is battling to avoid a sausage trade war with Brussels which could see chilled meats barred from shops in Northern Ireland from the end of this month (Sky News). Environment Secretary George Eustice has described a ban on exporting sausages and processed meats from Great Britain to Northern Ireland agreed as part of the Brexit process as "nonsensical" (Sky News). The EU and the UK are on the brink of 'sausage wars' as ministers slammed 'nonsensical' and 'bonkers' trade curbs on Northern Ireland and Brussels threatened reprisals (The Daily Mail). Is Britain ready for a sausage trade war with the EU, asks The Telegraph, suggesting that Boris Johnson will be tempted to hit EU with tit-for-tat tariffs if row over British bangers escalates (The Telegraph).
British American Tobacco has increased its forecast for sales growth after reporting a record number of new users for its vaping products (The Financial Times £). The owner of Lucky Strike and Camel has raised its annual growth forecasts after more smokers turned to vapes and electronic cigarettes (The Times £). British American Tobacco has upped its sales forecasts after it lured millions of new customers to take up its e-cigarettes, vapers and oral nicotine while traditional cigarettes sales remained strong (The Daily Mail).
BAT trades near a decade low on a forward price to earnings multiple of just over eight times, fully a quarter cheaper than global peers. What hurts BAT is not just the comparison to peers but the surge of money into environmental, social and governance funds, for which it does not qualify. A new controversy over the sale of menthol cigarettes, which face a ban in the US, makes things worse. (The Financial Times £)
A group of MPs has called on the government to consider raising the age of sale of cigarettes to 21 in order to end the "tobacco epidemic" by the end of the decade. (Sky News)
The pubs sector may have opened up as restrictions have eased, but publicans have yet to celebrate. Although confidence has improved, many retain a glass-half-empty outlook on their prospects (The Times £). Pub bosses have appealed for the easing of COVID restrictions across the UK, saying the delayed Euro 2020 football championship offers the perfect opportunity to help the industry and beyond recover (Sky News).
London Cocktail Club owner Nightcap has said recent sales have smashed its expectations as drinkers flooded back to its bars since indoor seating was allowed on 17 May. (The Daily Mail)
Shops and hauliers are struggling to get hold of qualified staff as the economy roars back to life. Consumers could face higher costs or even empty shelves as the impact of the pandemic collides with post-Brexit problems over visas. (The Daily Mail)
Shares in Wendy's, the American fast-food franchise that dates back to 1969, jumped by 25.9% as retail investors have been buying the stock in recent days amid chatter on forums including Reddit's WallStreetBets. (The Times £)