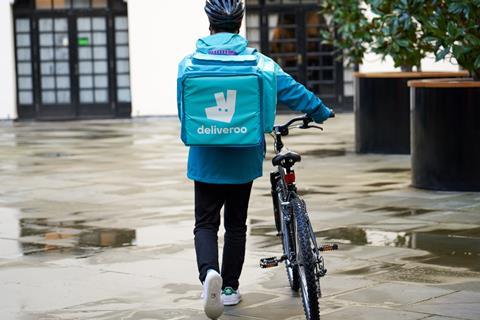 Deliveroo has revealed that it remained in the red last year despite a food delivery boom during lockdown as it seeks a valuation of as much as £7bn in a highly anticipated float (The Times £).
Meal delivery company Deliveroo has revealed that it has set aside more than £112m to cover potential legal costs relating to the employment status of its delivery riders, as it confirmed plans for a stock market listing in London (The Guardian).
Deliveroo expects customer spending on its food delivery app to grow by 30-40% in 2021, implying gross transaction values of at least $5.3bn — a slowdown from the 64% jump seen last year when coronavirus lockdowns pulled in a wave of new customers (The Financial Times £).
The Lex column in The Financial Times (£) says that much depends on whether enthusiasm for home deliveries formed during the pandemic wanes.
The Times (£) says disruptors such as Deliveroo must act fast while investors are still hungry.
The Telegraph slams Deliveroo's upcoming flotation in a comment piece that argues the deal is less tasty than it looks. "Large losses and a rubbish reward system for riders mean the delivery giant's listing plans fail to whet the appetite," the paper writes.
Dove soap and Sure deodorant owner Unilever will ban excessive Photoshopping of models and remove the word "normal" from beauty product advertising, in its latest response to social and environmental concerns (The Guardian).
Morrisons, Britain's fourth largest supermarket group, has promised that all the UK own-brand products that it produces will be sourced from farms with net- zero emissions by 2030 (The Times £).
Sainsbury's has apologised to customers after running out of dog and cat food pouches due to a "national shortage" (BBC News). The supermarket giant said it was trying to resolve the issue but warned it would be "ongoing" in 2021.
The run-up to the reopening of schools and increased spending on home improvement helped UK retail sales return to growth in February despite the national lockdown, according to the latest industry data (The Financial Times £).
The prospects for a consumer spending boom after lockdown have been downplayed by a senior Treasury official, amid warnings that wealthier families have saved more than low-paid workers during the pandemic (The Guardian).
Marks & Spencer has almost doubled the number of countries in which it will sell its clothes and homeware as it seeks to capitalise on the boom in online shopping (The Telegraph).
Restaurant reopenings boosted recovery in US jobs market, as the lifting of restrictions on indoor dining and warmer weather fuel hopes for further growth (The Financial Times £).