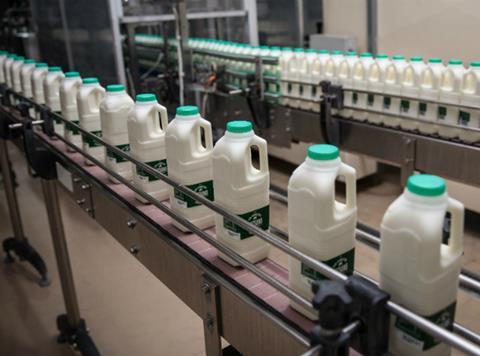 The long-rumoured merger between Freshways and Medina Dairy is a step closer after the liquid milk processors confirmed they were in discussions to establish "a sustainable and progressive dairy business".
In a joint statement published today, the two companies cited a "highly challenging" backdrop of low margins, declining sales volumes and the fresh milk market's domination by its two major players Arla and Müller as the key drivers behind talks.
"In response, businesses large and small have sought to consolidate, rationalise and cut costs, but despite this a number have proved to be unsustainable," they said. And as a result, both Medina and Freshways were in discussions over "whether a potential merger will create the basis for a viable, long-term, fresh liquid milk business".
Talks of a merger between the two mid-market suppliers first emerged following the collapse of Tomlinsons Dairies in the autumn of 2019.
The two parties have since confirmed they have been working together on some initiatives, including the co-branding of some products, while Freshways MD Bali Nijjar confirmed to The Grocer last summer that a merger remained on the agenda.
However, the latest statement is the first time the two processors have both confirmed their intention is to combine. If negotiations were successful, the parties would expect to notify any merger to the CMA, they added.
A combined Medina and Freshways would create a supplier boasting a combined turnover of almost £380m, according to the pair's most recent accounts on Companies House, with Freshways parent Nijjar Dairies posting sales of £213.6m in the year to 28 December 2019.
Medina Dairy posted sales of £244.3m for the 78 weeks to 27 October 2018, which when annualised stood at £162.9m. However, it made a pre-tax loss of £1.4m over the accounting period (annualised to £934,000). Nijjar Dairies, meanwhile, made a pre-tax profit of £434,000 in 2019.
Pandemic woes
2020 was no kinder to the two processors amid difficult trading conditions as the pandemic took hold. Both businesses were forced to cut their milk price and delay farmer payments last spring as demand collapsed from the key out-of-home market.
Medina's own-label Sainsbury's supply contract also ended in 2020, while ongoing cashflow issues stemming from the pandemic ultimately led Medina to close its Watson's Dairy plant in Hampshire last October after it decided the site was "unviable".
Commenting on the merger talks, Nijjar said Freshways was "very excited" about the possibility of a "partnership" with Medina.
"We believe the two companies have complementary structures and cultures, which will mean we are able to compete even more effectively with the two large players which dominate the dairy sector in the UK," he added.
"We are looking forward to working with the directors of the Freshways business to explore the possibilities of a merger," added Medina Dairy CEO Sheazad Hussain.
"In doing so our joint objective will be to create a business that is leaner, more agile and fit for purpose. One that will benefit customers, consumers and suppliers and will ultimately be well-placed to grow and develop in a sustainable manner for the long term."
As part of the discussions, an entity linked to Freshways has taken on security within the Medina Group, documented by a charge registered at Companies House on 19 February.
However, the two parties stressed the confidential terms of those arrangements "do not give Freshways any control over the day-to-day operations of Medina and the Medina Group remains wholly independent".