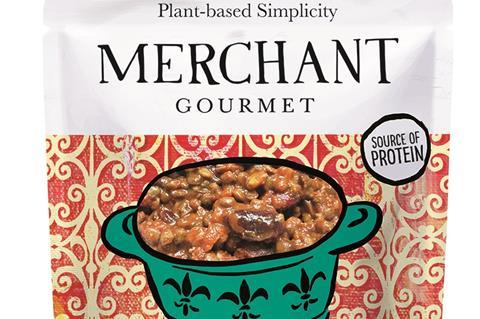 Merchant Gourmet has launched Appetite for Change Recycle Scheme to encourage shoppers to recycle its plastic pouches.
Run in partnership with plastic waste recycler Enval, the new initiative would "make it simpler for consumers to recycle ready-to-use pouches, which are not currently recycled by local councils" said the pulses and grains brand, which expects to prevent 100,000 pouches from entering landfill.
Appetite for Change Recycle Scheme featured "a ground-breaking process that is one step further in closing the recycling loop" Merchant Gourmet added. "By applying this cutting-edge innovation to packaging recycling, Enval makes previously unrecyclable plastic valuable and environmentally responsible."
Using technology capable of handling flexible packaging waste, Enval will recycle the plastics in Merchant Gourmet pouches into oil that can be used to make new plastics. The tech can also handle both the plastic and aluminium layers in the brand's chestnut pouches – via a process that produces oil and aluminium ingots that will be reintroduced into the supply chain.
To join the recycling scheme, consumers can sign up on the Merchant Gourmet website. They will be sent a pre-paid, pre-addressed envelope that can be filled with used pouches and posted to Enval.
Merchant Gourmet was "fully committed to closing the loop on plastic recycling" said MD Richard Peake. "On our journey to doing this, Enval quickly became the obvious partner for us. They have developed the world's only truly sustainable process for the treatment of flexible packaging, and also provide a convenient way for our consumers to use the programme."
Enval CEO Carlos Ludlow-Palafox added: "We hope that this partnership will encourage similar brands to consider how they can improve recyclability in their products."
Appetite for Change Recycle Scheme comes after Mars, Nestlé, Taylors of Harrogate and Ella's Kitchen last month formed the Flexible Packaging Consortium with recycling specialist Suez, to crack down on flexible packaging waste such as crisp packets, bread bags and petfood pouches.