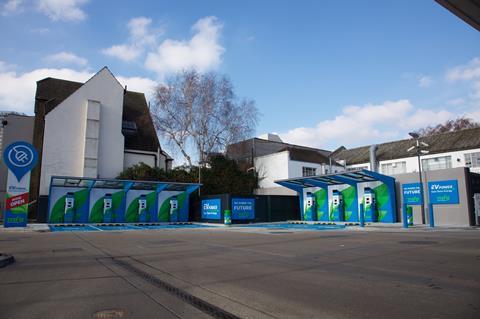 Motor Fuel Group is investing £400m in ultra-rapid electric vehicle charges across its UK network by the end of 2030.
The move will see 3,000 150kW and 350kW EV chargers installed at 500 sites.
Each MFG hub will have between four and eight ultra-rapid 150kW EV chargers, which can add 100 miles of range in approximately 10 minutes, subject to the charging capability of individual car batteries.
The forecourt operator hopes these will then be upgraded with more powerful 350kW EV chargers, which closely match the time taken for a conventional fossil fuel fill-up, as vehicle battery technology becomes more widely available.
So far, it has installed the technology at 108 sites and is looking to build EV charging hubs at an additional 40 sites by the end of the year, offering more than 200 ultra-rapid 150kW EV chargers.
The initial focus will be on major trunk roads and urban areas.
In London alone, MFG's planned rollout will treble the current number of open network ultra-rapid 150kW EV chargers.
From 2022 onwards, it is looking to build at least 50 additional EV charging hubs per year as it aims to help the government's target of being net zero by 2050.
By developing ultra-rapid 150kW and 350kW EV charging hubs in strategic locations across the UK, MFG believes it is "uniquely placed to alleviate range anxiety and increase drivers' confidence in electricity as a fuel source".
By 2035, MFG plans to complete its EV rollout to all suitable remaining locations in its network.
"Our planned £400m investment in this vital infrastructure will help keep UK motorists on the move, and our essential retail will support local communities and the economy," said MFG CEO William Bannister.
"I am looking forward to engaging with the government to ensure this investment best meets the national EV infrastructure requirement to help us all make a contribution to ensuring Britain meets its net zero target by 2050."