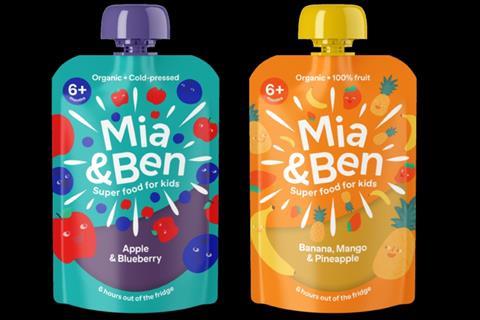 Organic kids' food brand Mia & Ben has rebranded – and dropped its prices.
The supplier, whose HPP purées are currently stocked in Sainsbury's, Ocado and with Abel & Cole, has rolled out a new look playing up the brand's "fresh" credentials, and has slashed its prices from £1.59 to £1.29 per 100g.
Mia & Ben co-founder Karina Gentgen said the new design "reflects the nutrition and the freshness of our products and our evolution as a brand better".
"We have kept lots of elements of the previous designs and even got a bit bolder in emphasising them, such as the window through which you can actually see the purée," she said.
The category was "very price sensitive so we have been testing different price points to see what would resonate with our customers", she added.
"We are using an innovative technology to keep all the natural vitamins, flavours and colours of the products as fresh as it gets so there is a small premium compared to dairy products. Through the national listing at Sainsbury's we were able to optimise production costs to sustain the price change."
In fact, at the time of writing, Sainsbury's was selling the packs for even cheaper, at £1.20 per 100g. Comparatively, a 120g Ella's Kitchen purée cost £1.10 (or 92p per 100g), while the bulk of Piccolo's 100g pouch range was on promotion at 90p per 100g, down from £1.10.