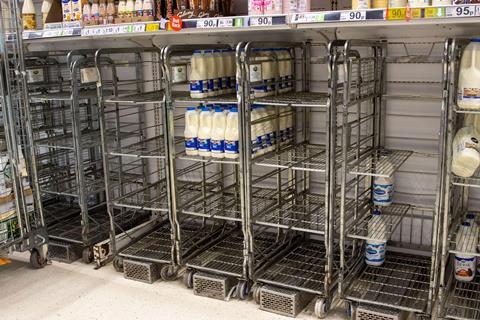 North Yorkshire-based milk processor Paynes Dairies has warned it is "struggling" to keep supplies moving as the HGV driver crisis continues to disrupt dairy supply chains.
The supplier's MD Charles Payne told The Grocer the driver shortages that had gripped the food sector in recent months were now "affecting us quite considerably", with the business only making 90% to 95% of its planned deliveries in recent weeks.
"It's not a good situation, and the government's increase of driver hours by an hour a day hasn't helped [that much]," Payne said, as he called for more support to attract drivers into the sector.
The government could help by relaxing Certificate of Professional Competence rules to attract those who had retired back into work, he added, while also calling for a relaxation in visa rules to attract more European drivers back to the UK.
"Until that happens, this problem won't go away," he warned.
Payne's warnings follow those of Arla Foods UK MD Ash Amirahmadi, who last week revealed the dairy co-op had failed to deliver milk to 25% of its intended customers – about 600 stores in total – due to shortages of drivers. Arla confirmed this week it was still facing the same issues.
It comes amid growing concerns over empty milk chillers in some parts of the country, with analysis of online fresh milk availability for The Grocer by Assosia showing at least 30 lines have been out of stock in the big four for at least a day since 10 July.
Elsewhere, Medina Dairy said it had been forced to "rationalise and optimise" its delivery routes in a bid to maintain supplies, and was having to work with its customer base to change delivery schedules.
While it hadn't yet missed a delivery due to the effects of the crisis, the changes meant it was now making fewer deliveries to customers on a weekly basis.
Others to face challenges from driver shortages include London-based Freshways – which completed a merger with Medina last month, while Hampshire-based distributor Pensworth also said it was seeing delays from its milk suppliers.
But while admitting it was not "entirely immune" to issues caused by driver shortages, a spokesman for Müller Milk & Ingredients said its network had been "resilient", thanks to the fact the majority of its logistics operations were in-house via partner Culina, "with 99.8% successful deliveries in the last few weeks".
Businesses were "doing everything they can" to tackle the crisis, said Dairy UK CEO Judith Bryans, but the labour shortages were now "a real issue" that needed to be resolved.
"We've been collecting data on labour shortages which we've been submitting to Defra. We've also been working with the NFU and a number of other organisations providing data for a report on labour being done by Grant Thornton, which is underway now," she added.
"The food sector in general needs the government to give skilled worker visas to drivers, but given that we have fresh products in dairy we really need that to happen sooner rather than later."