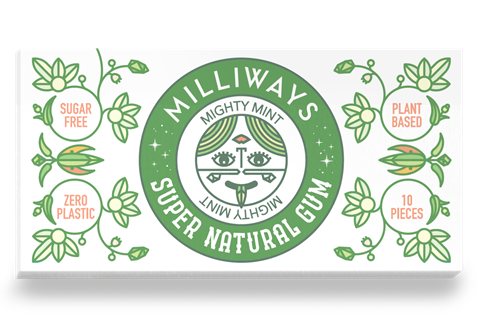 Sustainable startup Milliways has debuted with a range of 'super natural' chewing gums.
Touted as an alternative to "synthetic" chewing gum that doesn't compromise on taste or texture, the new range is plant-based, sugar-free and packaged plastic-free.
Three flavours: Peppermint Power, Mighty Mint and Watermelon Wonder, have rolled out on Amazon and the brand's own website (rsp: £4/four-pack or £12/12-pack).
The gum itself is made using a "carefully selected" recipe which includes eight naturally-derived ingredients: sapodilla tree chicle sap, natural flavours, xylitol, stevia, gum arabic, vegetable glycerine, magnesium stearate and ethically and sustainably sourced carnauba wax.
Milliways said these ingredients made the gum biodegradable and healthier to consume than traditional gum.
Shoppers were becoming increasingly aware of the plastic and chemicals in chewing gum, said Milliways, which could cause "severe consequences to their health and the environment".
Traditional gum was also difficult to dispose of and cost the UK government about £60m per year to remove from surfaces, added Milliways.
It said much of the chewing gum available in the market hadn't changed in decades, adding that none of the offerings provided shoppers with "a healthy or natural choice".
However the launch of Milliways' range comes at a time of plummeting sales for the wider chewing gum category as impulse and on-the-go purchases are hit by the pandemic.
As The Grocer's Top Products report revealed in December, sales of chewing gum fell an eye-watering £48.2m (18.2%) to £216.6m last year on volumes down 18.1% [Nielsen 52 w/e 5 September 2020]