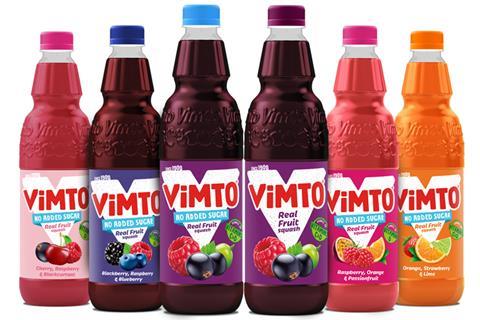 Vimto maker Nichols is seeing good momentum returning to its out-of-home business thanks to the easing of lockdown restrictions, hot weather and demand driven by England's performance at the delayed Euro 2020.
But CEO Andrew Milne told The Grocer today OoH sales would likely take 18 months to return to pre-pandemic levels, assuming there are no further lockdowns.
The out-of-home operation sells frozen slush drinks at cinemas, theme parks and holiday parks, supplies pubs with liquid for dispenser guns in pubs offering Coca-Cola, Pepsi, Irn-Bru and Vimto, and also runs a coffee business in hotels, golf clubs, bars and restaurants.
Lost sales as a result of lockdowns affected group revenues and profitability, despite increased volumes in supermarkets.
But out-of-home has roared back to life since society began to reopen in April this year.
In the second quarter of 2021, revenues in the out-of-home business were 843.7% ahead of those in the same period during the first lockdown in 2020. It left overall revenues for the first half in the division flat year on year.
"We've had a good two months in May and June, thanks to the summer weather and the Euros helping sales in pubs and also benefitting supermarket squash sales as football fans had barbecues across the country," Milne told The Grocer.
"It will likely take 18 months – subject to no more lockdowns – for the business to get back to where it was pre-pandemic, but there is good momentum there."
Nichols also announced today it had signed a significant new agreement for Vimto out-of-home to revive the iconic Slush Puppie frozen drink brand. It gives the business the rights to manufacture, manage, distribute and sell the brand across the UK, Ireland and Europe.
The momentum in out-of-home helped group revenues and profits at Nichols return to strong growth in the six months to 30 June.
Revenues jumped 13.8% to £67.4m and EBITDA bounced back 20.4% to £11.2m in the first half.
UK sales rose 5.5% to £48.4m, driven by a strong performance of the Vimto brand in supermarkets, with the business facing tough comparatives from a year ago when shoppers were stockpiling groceries.
Milne said a contemporary rebranding for Vimto, coupled with a new advertising campaign, innovation and new flavours, as well as fortifying the drinks with vitamin C and D, were all received well by consumers, cementing the brands place as the number two in the squash market behind Robinsons.
Sales overseas also jumped 42.3% to £19m, with double-digit growth in all markets as Vimto performed "resiliently" through Ramadan despite the ongoing pandemic and restrictions in the Middle East and launched new innovation in Africa.
Shares in Nichols leapt 2.6% to 1,478p today on the optimistic set of results. The stock is up almost 5% this week and more than 16% in the past year as it climbed past pre-pandemic levels.