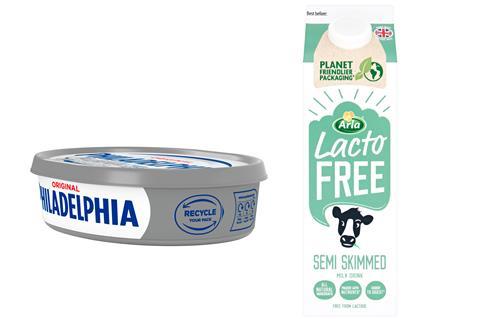 Mondelez has started rolling out fully recyclable packaging across its Dairylea and Philadelphia lines in the UK and Ireland.
The fmcg giant said the move would start with Philadelphia mini tubs and Dairylea handi snacks moving from polystyrene to widely recycled PET from this month – removing about 487 tonnes of polystyrene from its supply chain.
Part of the supplier's Snacking Made Right initiative, the switch follows a move to make Dairylea Lunchables packs from 75% recycled PET plastic in 2019 – cutting its use of virgin plastic by 276 tonnes a year.
The commitment also supersedes a pledge last June to make Philadelphia's packaging recyclable from 2022, and feeds into Mondelez' global bid to reduce virgin plastic in its rigid plastic packaging by 25% by 2025 and to achieving 100% recyclable packaging throughout its supply chain.
Mondelez said its work to reduce plastic use would also see Philadelphia become the first major cheese brand to pioneer the use of chemical recycling by the end of next year – described as "an important step" in the company's commitment to using 5% recycled content across all plastic packaging by 2025.
The process involves technology called pyrolysis, a type of thermal conversion technology that turns waste plastics back into a feedstock from which 'new' plastic can be made.
"Snacking Made Right means making our products with packaging people can recycle, it means making decisions for the long term that enable a circular economy," said Mondelez International UK MD Louise Stigant.
Lactofree move
It comes as Arla this week announced the launch of new packaging for its Lactofree milk, which is now made from 100% renewable materials.
The brand's one and two-litre cartons now use FSC-approved cardboard with an inner and outer layer made from biobased PE plastic. The new carton design forms part of Arla's commitment to phasing out all single-use, fossil-based plastic by 2030. By 2025 all its packaging will be fully recyclable.
It follows the start of UK production of Lactofree milk at Arla's Settle plant in North Yorkshire last month.
"Our move to a new 100% natural bio-based cardboard carton, not to mention production of our lactose-free milk moving to Settle, marks a major milestone for the brand and shows the strides we're taking as a business to reduce our impact on the environment," said Arla milk category director Danny Micklethwaite.
"We're delighted to be giving sustainably-conscious consumers the opportunity to feel good about the purchasing choices they make."
To promote the launch, schoolchildren local to the Settle plant teamed up with Kaiser Chiefs frontman and CBBC Art Jam presenter Ricky Wilson to create a piece of art made from 1,800 of the new greener cartons.
The picture, an image of mother earth, spanned 25 by 25 meters, and used a range of materials found outside and on farm.