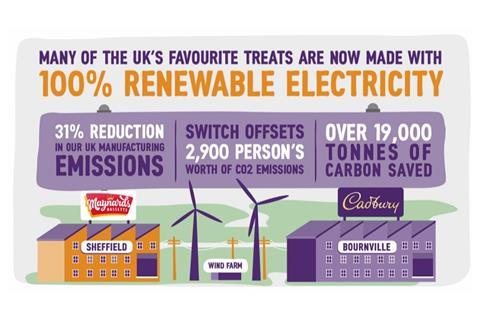 Mondelez is switching to using "100% renewable electricity" across all six of its UK production sites.
The fmcg giant – which owns Cadbury, Green & Black's and Maynards Bassetts – has signed a contract to provide its UK factories with sustainable energy generated solely in Britain.
The transition across its Bournville, Sheffield, Minworth, Marlbrook, Chirk and Crediton sites would "offset the equivalent of 2,900 people's annual CO2 emissions", it claimed.
Last February, Mondelez announced its global commitment to reduce its end-to-end CO2 emissions by 10% by 2025.
Mondelez had already increased its use of renewable electricity globally, moving from 8% to 23% of total electricity used, it said.
Its production sites in Mexico, Australia and New Zealand already used renewable electricity, it added.
Mondelez UK MD Louise Stigant said the decision to switch to renewable electricity was a "huge step" towards reducing carbon emissions in the UK.
It would support the company's global target and its mission to make snacks in the "right way", she added.
The move follows a global surge in sales for the company, which saw its net revenues jump 7.9% to $7.2bn in the first quarter of 2021.
Cadbury is currently the UK's biggest grocery brand, having sold an extra 71.7 million chocolate bars, biscuits, ice creams and cakes to locked-down Brits in 2020.