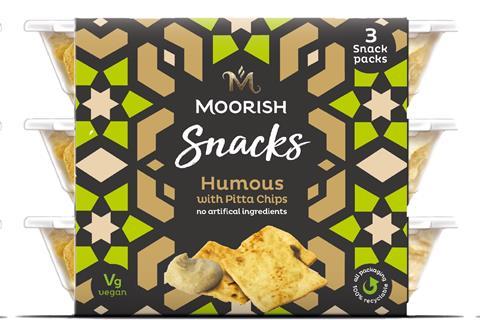 Posh dip brand Moorish is targeting lunchbox and snacking occasions with Trio Snack-Pack – which it claims is a category first.
It comprises three pots of houmous, each with a serving of double-baked pitta chips. Available in Smoked, Chilli Harissa Smoked and Classic (rsp: £2.80/3x51g), it will be available via Ocado from next month at an introductory price of £2.20.
Trio Snack-Pack was a "tastier, healthier option" said Moorish. Made with plant-based ingredients, it would provide "healthy lifestylers with a more natural and wholesome option to current dunking snack offers in the food-to-go fixture and dairy category".
The houmous launch is part of a stream of NPD planned by the brand over the next 12 months to drive its growth.
Trio Snack-Pack offered "a unique opportunity in retail to deliver true incrementality to the houmous category" said Moorish founder Julie Waddell. "When Covid hit, we saw a real opportunity to listen to consumer demand for a truly tasty, portion controlled, healthier, convenient and hygienically packaged snack to eat at home, at work, at school or on the go."
It comes after Moorish added chocolate houmous made from a blend of chickpeas, coconut milk and sesame seed paste, as well as cocoa powder, pomegranate molasses and golden syrup.