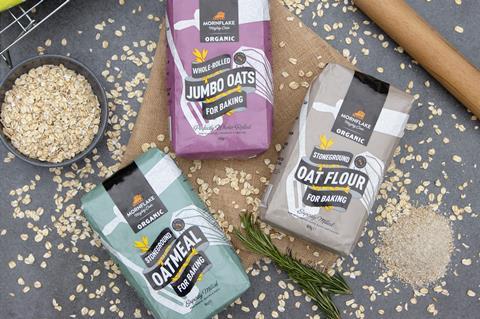 Morning Foods-owned brand Mornflake is entering the home baking category with a trio of organic oat-based products.
The trio ­– Oat Flour, Oatmeal and Jumbo Oats ­– would meet the "surge in consumer demand for home baking ingredients", said Mornflake.
They are packaged in recyclable paper and will be available to buy via the Mornflake website next month (rsp: £1.75-£2.65/600g-1kg).
Morning Foods was currently speaking to grocers and retailers to secure listings, it said.
The range would appeal to "enthusiastic home bakers looking to broaden their repertoire while incorporating high-quality, organic ingredients", said Mornflake.
Morning Foods marketing director Richard Jones said an "influx of demand" for oat-based baking products had led the brand to create a bespoke range.
"All three products are made from 100% organic oats, and offer a healthy, non-wheat alternative to conventional baking ingredients," he said.
"As shows like Bake Off start up again later this year, and with major baking occasions like Halloween and Christmas on the horizon, we look forward to securing listings for this unique range in the coming weeks and months."
Last year, the oats brand ventured into gut health with the launch of its two-strong Fibreful Oatbran Porridge range.