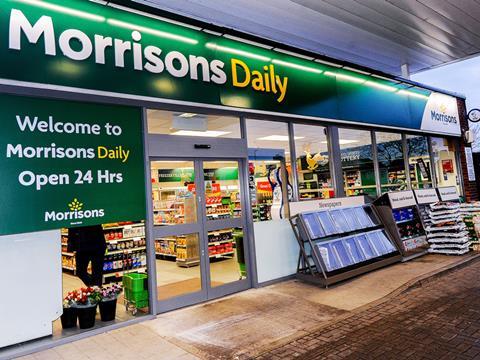 A sale of Morrisons to private equity owners could trigger a break-up of the supermarket chain, analysts in the City have warned.
Bernstein said it "struggled to see the returns [for a buyout group] of the current offer without significant asset sales".
Senior analyst William Woods added any rise in the tabled bid of 254p a share would put further pressure on potential new owners to sell off additional assets such as the petrol station estate, food factories, warehouses and stores.
It comes as the bidding process for Morrisons heated up last week as major shareholders in the group voiced public opposition to the accepted £6.3bn (£9.5bn including debt) offer from a consortium led by Fortress Investment Group.
Silchester International Investors, J O Hambro and M&G – who together account for about 20% of the investor base – raised concerns over the speed of the process, the price tag and the motivations of the Fortress consortium.
It looks unlikely that Fortress – at the current price – will cross the 75% vote threshold needed to gain approval for its takeover at the upcoming meeting on 16 August.
Meanwhile, US PE giant Clayton, Dubilier & Rice (CD&R), which counts former Tesco boss Sir Terry Leahy as a senior advisor, is widely believed to be putting the finishing touches to a new and improved offer for Morrisons. The firm has until 9 August to table an improvement on its rejected 230p-a-share bid.
Last week, Fortress revealed that Singapore's sovereign wealth fund, GIC, had joined its consortium, alongside Canadian pension fund CPPIB and a subsidiary of US group Koch Industries, to add extra firepower should it need to up its offer.
Apollo Global Management also remains in talks to join forces with Fortress after announcing it would not make its own approach for the supermarket.
Shares in Morrisons have climbed a further 1.6% to 271.8p so far today – well above the 254p offer price and more than 52% higher than before the takeover process started – as investors anticipated a bidding war.
"If there is continued significant opposition to the current Fortress deal, there is potential that the Fortress-led consortium will up their bid," Woods said.
"However, we see the IRR [internal rate of return] on the deal at the current levels challenging without significant asset sales. Any further increase in price per share would challenge the return further and put greater pressure on the new owners to sell off more assets."
Fortress have made explicit assurances as part of its offer to ease any worries about private-equity asset stripping. It has put safeguards in place for jobs, pensions, the Bradford headquarters and the vertically integrated supply chain. And it said it did not anticipate "engaging in any sale and leaseback" of the freehold store estate.
"Although there are safeguards in place where major sale and leaseback of the stores has been ruled out, there are no safeguards outlined for distribution centres, petrol stations or food production facilities," Woods of Bernstein noted.
He added that other potential bidders such as CD&R have not given any protections over a major sale-and-leaseback programme, and any bidding war would increase the likelihood of significant asset sales.
On Friday, the CMA notified Fortress that it had "no further questions" in relation to its offer and had not opened a competition enquiry into the deal.