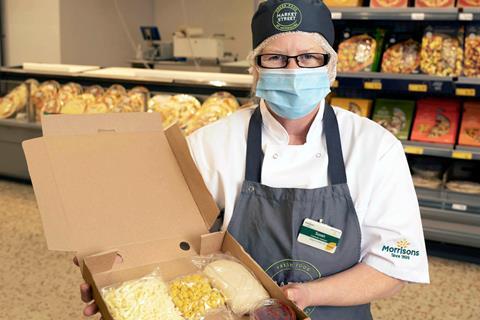 Morrisons is giving away 60,000 pizza making kits to help fight child hunger.
Staff working on the retailers' pizza counters will prepare the kits, which will be distributed via Morrisons Community Champions to schools and community groups to help support families in need.
The move follows Morrisons' announcement in January that it had set aside a further £5m of food supplies to help keep the nation's food banks stocked up this year, on top of the £10m it delivered last year.
Each kit includes ready-to-roll pizza dough, tomato sauce, grated cheese and either peppers and sweetcorn or pepperoni and ham, depending on whether families would like a meat or vegetarian option.
Morrisons' pizza kit donations follow the donation of over 75,000 lunchboxes to schoolchildren over the previous half term break in October 2020.
Donations begin this week in Scotland and next week in England and Wales.
"We want to ensure as many children as possible have access to the food they need over the half term break, which is why we're offering these pizza kits to those who need them in our local communities," said Sian Ayling, head of food to go at Morrisons.