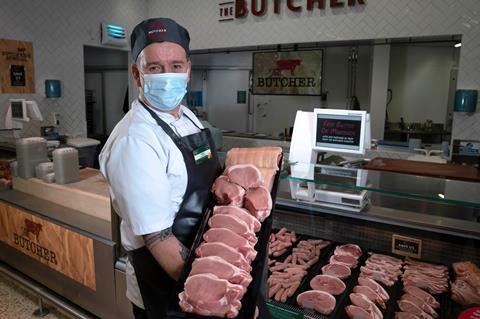 Morrisons has slashed its pork, sausage and bacon prices in a bid to stir up shopper demand and support the British pig sector amid a flood of supply and collapsing farmgate prices.
The prices of all of Morrisons' British pork products will be cut as part of the promotion, which will run for the next 10 weeks.
The retailer said a pork shoulder – normally costing £4.20 per kilo – would now cost just £2; a pork loin – normally costing £6 per kilo – would cost just £4; and a pork tenderloin – normally costing £7.50 – would cost just £6.
The majority of Morrisons The Best Sausages and Bacon will also be on offer at two for just £4, and all of Morrisons' British gammon will be cut by one third to 90p per 100g. It is also offering bacon or sausage sandwiches and a hot drink to take away from its cafés for £3 as part of the push.
It comes amid a growing crisis across the European pig market, with UK exports to the EU hit by Brexit border bureaucracy and a slump in demand due to an oversupply of the market due to a Chinese ban on German pork imports.
AHDB's SPP deadweight pig price was 2% down year on year last week at 139.63p/kg, while estimated throughput for the week was 175,500 head, 6,800 lower than the week before, and almost 2% lower than the same week last year. The price is also some 15% lower than it was last July.
With pig farmers struggling to find a home for their produce and a "pork mountain" building up on British farms, Morrisons hoped its move would "boost demand and play a part in helping farmers out".
"Britain produces some of the finest pig breeds and pork products in the world. But pig farmers are currently facing difficult times," said Morrisons head of agriculture Sophie Throup.
"We're British farming's biggest supermarket customer and feel it's our duty to help. So we're introducing knockout deals across our store – and hope this will encourage our customers to help farmers by buying more pork."